Aeroseal Duct Sealing Services by Hansen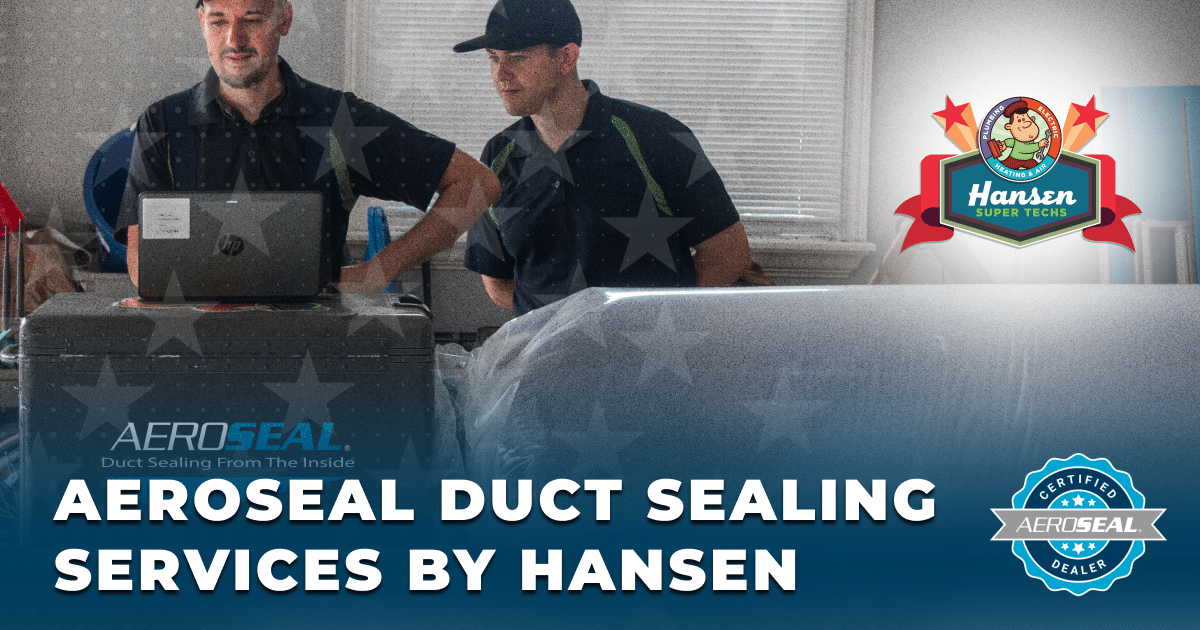 Hansen Super Techs are proud to offer the highly innovative, Aeroseal Duct Sealing Services to our many wonderful customers in Mobile, AL, and the surrounding regions. These services will help you enhance the quality of your life in your home by providing cost, saving benefits, and many other enhancements.
Aeroseal Duct Sealing Defined
Aero seal is an innovative sealant that uses specialized technology to close the leaks and gaps in your ductwork system. This is a very reliable and heavy-duty sealant that will stay in the ductwork for a very long time. It will provide a comprehensive solution to many of the Issues you are facing that are created by a poor ductwork system.
Is My Home a Candidate for Aeroseal?
What are the signs that your home is in need of Aeroseal Duct Sealing Services? As you think about this service, consider the following questions:
Are there large accumulations of dust around your home when the

AC unit

is working?

Is it consistently muggy at home?

Are there inconsistent temperatures in certain areas of the house?

Has the efficiency levels of your unit dropped recently?

Are your energy bills continually increasing from month to month?
If your answer to these questions is yes, it may be time to contact a local air conditioning technician to discuss the possibility of Aeroseal for your ductwork.
Reap These Benefits of Aeroseal Duct Sealing Services
When you invest in Aeroseal Duct Sealing Services, you will receive far greater outcomes in your home. Check out these benefits that you will instantly reap after the installation of Aeroseal.
Better Air Conditioning Performance
The quality of the ductwork in your home plays a significant role in the performance of your air conditioning unit. When it is sealed with a sealant like Aeroseal, the performance of your AC will be increased by a large margin. 
This increase is explained by two reasons. First, the AC unit will not be fighting against duct leaks to deliver the needed temperatures to your home. Secondly, Aeroseal enhances the performance of even older AC units or those that are billed with lower efficiency levels. With the availability of these services, you can get away with buying a less expensive AC unit because the Aeroseal will make up for the lower efficiency rates.
Lowered Energy Bills
It is not a secret that duct leaks create higher energy bills because they cause the AC to work harder than necessary. With Aeroseal, cooled air will flow directly into your home without escaping through cracks or gaps. As a result, you will be getting the most out of your AC without having to pay exorbitant energy bills.
More Comfort at Home
Dust, anybody? It is very hard to find anybody who prefers to live in a dusty and muggy home. Thus, Aeroseal Duct Sealing Services are becoming very popular among many homeowners. These services will help you enhance the comfort levels of your home, allowing a more sanitary and optimal atmosphere in every room.
Enhanced Air Quality 
There is nothing worse than being met with dusty and muggy air at home. The concept of "fresh air" is lost at that point. But, with Aeroseal Duct Sealing Services, the indoor air quality at home will significantly improve. There is no need for anybody to live in a dusty home that is created by poor-quality ductwork. Invest in these services today and the future will thank you. 
Schedule Your Services With Hansen Today! 
Are you considering Aeroseal Duct Sealing Services for your home? Contact Hansen Super Techs today to learn more about these services and to see if your home is a good fit for them. Our technicians will be able to assess the quality of your ductwork and provide you with the necessary advice to make a good decision. Call us today at (251) 227-4441.