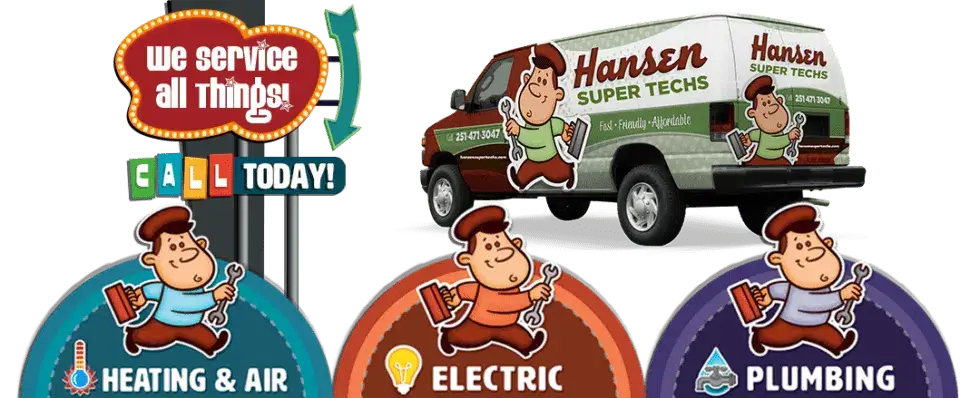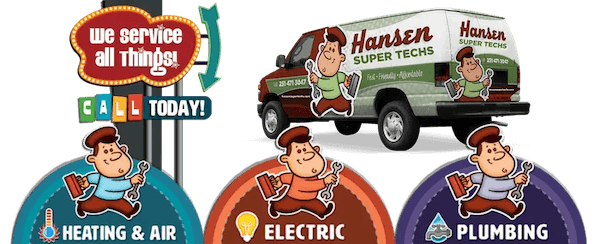 Help Starts Here for Service & Repair!
Trusted AC Maintenance in Mobile, AL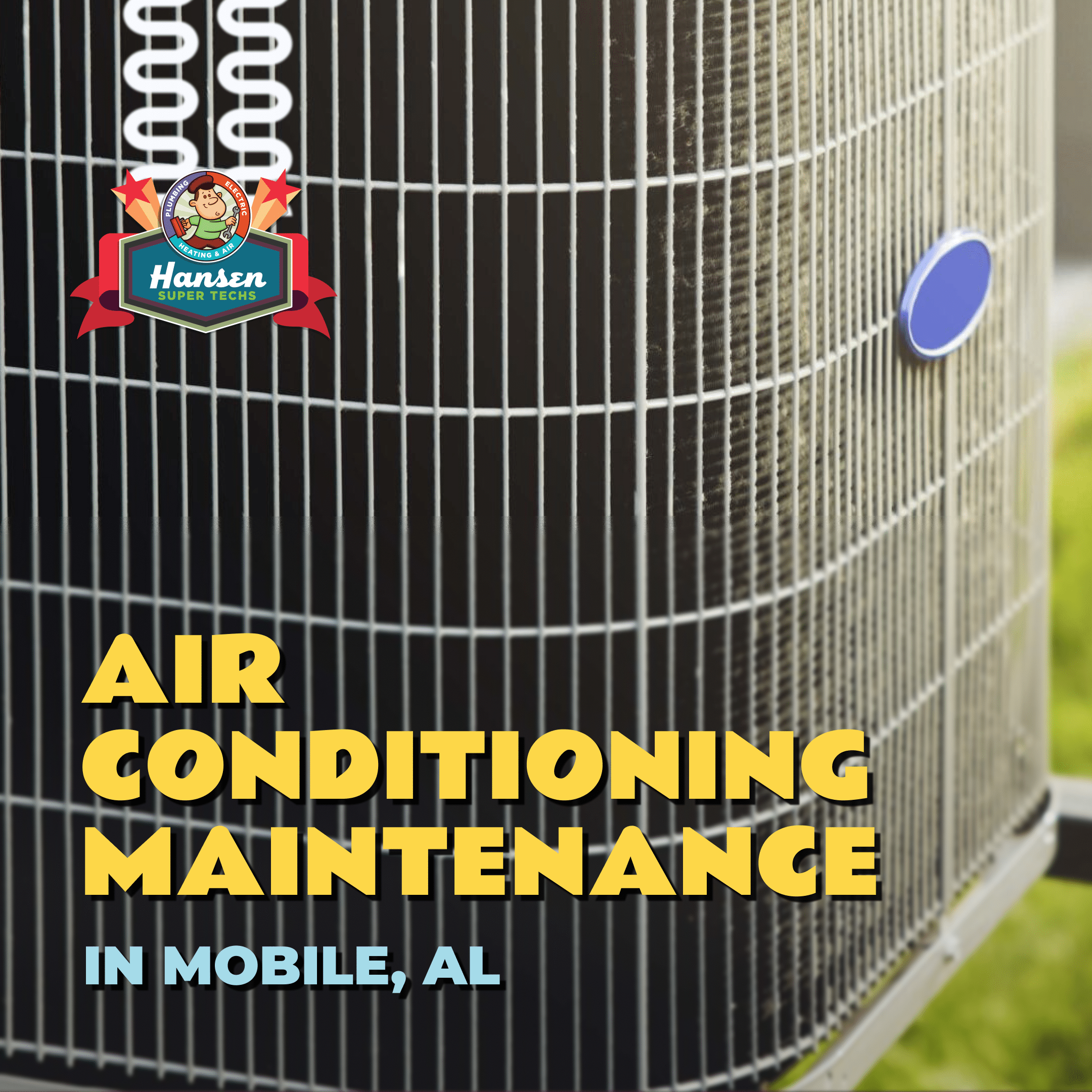 Hansen Super Techs is a great choice if you're looking for an honest, trustworthy team to take care of your AC tune-up services in Mobile, AL. Having a working air conditioner is a must during the summer months. When the temperatures go above the 80s and 90s on the hottest days, your comfort and safety are a top concern.
However, your air conditioner may not be ready for the heavy demands placed on it throughout the summer months. That's why scheduling an AC tune-up with our experts is the best way to give yourself peace of mind about your home staying nice and cool as the weather heats up.
Prepare your cooling system for those hot summer days by scheduling an annual maintenance service with Hansen Super Techs!
Our Comprehensive Air Conditioning Tune Up Service
Our comprehensive air conditioning maintenance plans offer our Mobile, AL customers a thorough inspection and adjustment that ensures that your cooling system is functioning correctly and efficiently.
When our AC tune-up technicians arrive, you can expect the following from our expert, high-quality service:
Air filter inspection, change, or cleaning

Ensure proper operation and air flow

Cleaning and lubrication of all moving parts

Refrigerant pressure check

Check for leaks in the duct system and AC coils

Check for proper operation of the thermostat

Inspection of the condenser coil, fan motor, all the wires and all other system components

And more!
With this thorough maintenance plan, you can trust that your air conditioning unit will Keep your home cool while helping save money in the long run.
There is no doubt that Hansen Super Techs will keep your air conditioning system operating at peak efficiency all year round!
Are Air Conditioner Tune-Ups Worth it?
Annual maintenance services of the air conditioning system is absolutely essential as this helps keep the entire system components in good shape. If you want to keep the air conditioning system working well all year round, get in touch with our heating and cooling technicians to reap all the following benefits: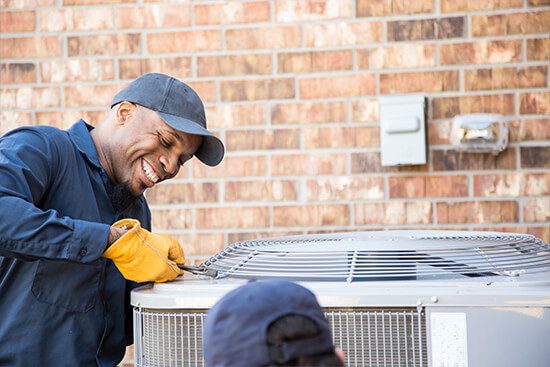 Maximum energy efficiency of your air conditioning unit and lower energy bills

Peak performance of your AC unit

Optimal indoor air quality

Less expensive repairs or any repair services in general

Maximum comfort during the home cooling season

Extended lifespan of the air conditioning unit

Personalized assessment and recommendations for any HVAC system repair service
Do not miss out on these benefits and schedule your annual air conditioning tune up today with Hansen Super Techs! Our HVAC system technicians will help you keep your unit working efficiently.
Are You Caught Up on Your Regular AC Tune Ups?
When was the last time your air conditioning unit got a tune-up? If you know that it's been a while, call our HVAC system technicians today to set up a tune-up. Our team of experts will provide a thorough inspection and repair recommendations to avoid expensive repairs or emergency services. Take advantage of our annual tune ups and experience your AC unit working at peak efficiency.
Schedule an AC Tune-Up with Hansen Super Techs Today
Hansen Super Techs in Mobile offers professional air conditioner maintenance any time of the year. We invite homeowners, property managers, and business owners to contact us at any time to schedule a summer preventive maintenance appointment. We're always glad to take your call!
For more information or to schedule an AC maintenance appointment, please contact our team today. We can help you prepare your home for winter with our equally comprehensive heating maintenance service. Maintenance can prevent most repairs, but sometimes things just go wrong. If you need an AC repair, we're here to help. Hansen Super Techs also offers a great AC installation experience tailored to meet your unique needs and budget.
FAQ: Regular AC Tune-Ups
How much is a tune on an air conditioning unit?
The cost of annual tune-ups varies from one maintenance service provider to the next. Many HVAC companies have maintenance plans that are presented on their websites. We recommend you get multiple quotes, read reviews, and take the time to understand the specific services offered by the HVAC companies you're considering.
How often does an AC unit need a tune-up?
Ideally, it is best to consult an HVAC system technician on how often your AC needs to be serviced. As a rule of thumb, an annual AC tune up will be a great pace to start with in taking care of your air conditioner.
The frequency at which you have your HVAC systems tuned up also depends on the following:
How often do you use a heating and cooling system? Heavy usage requires more regular AC tune-ups.

How old is your current air conditioner? The older the AC, the more frequent those AC tune up services should be!

What are the warranty requirements of your air conditioning system? Many manufacturers have specific maintenance requirements to keep the warranty valid.

Is your current area of residence known for excessive dust, debris, or humidity? If so, more regular maintenance will be required.
What month is best for AC tune-up?
The best month for AC tune ups is typically in the spring, before the hot weather arrives. This gives the technicians the opportunity to clean and adjust the condenser coil, evaporator coil, fan motor, and all other moving parts to ensure peak efficiency. They can also provide any necessary repairs that will keep your utility bills at a minimum, while keeping your home as comfortable as possible.
Get in Touch!
Call Us: 251-225-3121
or visit our contact page to submit your request directly to our office.
License Info
Heating A/C & Refrigeration
Contractors: # 22132
Master Gas Fitter: # MG-2057
Master Plumber: #MP-4128
Electrical: #ELEC06775
Privacy Policy | Terms & Conditions