DIY vs. Professional AC Unit Replacement: Pros and Cons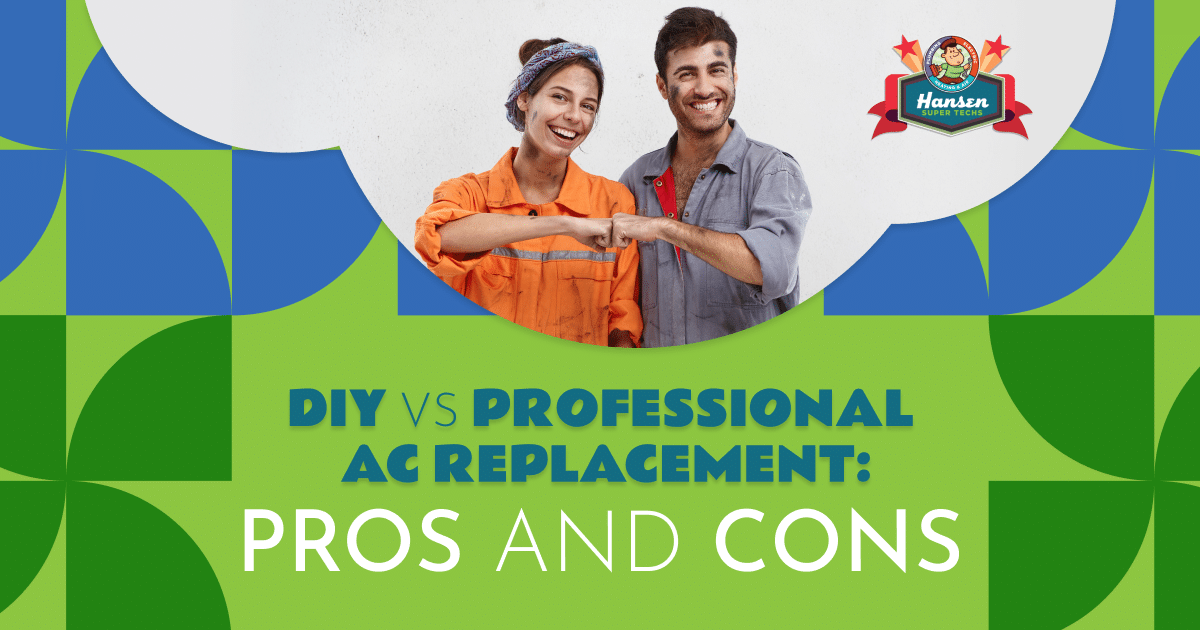 Pros and Cons of Replacing AC Units Yourself vs. Hiring a Professional
With summer fast approaching, you may have already experienced warm enough temperatures that forced you to crank up the air conditioning unit. And while you were expecting a cooling reprieve from the hot weather outside, you may have been surprised that your AC wasn't performing at optimal levels. So, you look over the typical signs of an AC that needs to be replaced and find that your AC is probably ready to retire. 
This need for an AC replacement will lead you down a series of decisions you must make as you replace the unit. One of the first decisions will be about the installation process. Should you replace the AC yourself or hire a professional? Below, we will outline the pros and cons of both options to help you make the best decision. 
Replacing an AC Unit By Yourself
Air conditioners are expensive, and so are the fees to install them. So understandably, many homeowners contemplate doing the whole installation by themselves. After all, with a few YouTube tutorials and careful attention to the installation manual, what could possibly go wrong? As professional AC installation techs, we want you to know the advantages and disadvantages of doing this project independently. 
Pros 
When you hire a professional air conditioning replacement tech, you must be flexible with your time and money. By doing it yourself, you'll experience the following advantages: 
You can pace the speed of the installation according to your schedule.

You will save on installation fees.

You will feel accomplished after completing a complex task such as air conditioning replacement.
Cons
Now that you know the advantages of replacing an AC on your own, consider the disadvantages. Ask yourself if saving on installation fees will be worth potentially experiencing these problems: 
AC units consist of electrical and refrigerant components. If they are connected incorrectly, you may run the risk of an electrical fire or refrigerant poisoning. 

Few homeowners are HVAC experts who know how to install an AC. Improper installation leads to inefficient unit operation and frequent repairs. 

If you make mistakes in the installation, it may cost you more money than it would have just to pay a professional the first time around. 

Many AC warranties become void when a licensed technician doesn't install the unit. 

Certain local and state laws prohibit the installation of HVAC products by those who are not licensed to do so. 
Hiring a Professional
Air Conditioning Replacement
Why do HVAC companies insist on handling AC replacements? Is it to charge residents money and make higher profits? That is hardly the mission at Hansen Super Techs. Check out the following pros and cons of hiring a professional. 
Pros
When you hire a pro to do the job, you are almost always guaranteed a job done well. Air conditioners are expensive investments that must be installed by only the most knowledgeable experts on the market. You can count on the following benefits of hiring a professional technician: 
Before a technician can install your AC, they must be licensed and fully trained to perform these tasks. Only after demonstrating their full knowledge and competency on the subject are they permitted to work in

their customers'

homes. 

Technicians are equipped with the gear and tools required for a safe installation. They are also insured should any mishaps occur during the service. 

Because AC units are expensive, most techs offer a warranty on their work that will provide additional repairs or services in case of any difficulties after the installation. 
Cons
Hiring a professional has many benefits, but there are some disadvantages, such as the following: 
You will have to pay for the expert installation service. 

You will have to work with the scheduling constraints of your HVAC service provider.

You must rely on a third party to get the job done. 
Though these points sound inconvenient, you can still find an installation service that will work extra hard to make the whole process as seamless as possible. 
Air Conditioning Replacement
Services in Mobile, AL
Replacing an AC is no small matter, but you can get the job done quickly with the best techs in town. Hansen Super Techs offer flexible payment plans and will work with you to ensure your replacement is done at a pace that is most comfortable for you. If you know you are planning on a replacement learn more about the 2023 AC Installation Tax Credit for split and packaged AC Unit Installations. Contact us to learn about the options available.