Why Not to Delay HVAC Repair in Biloxi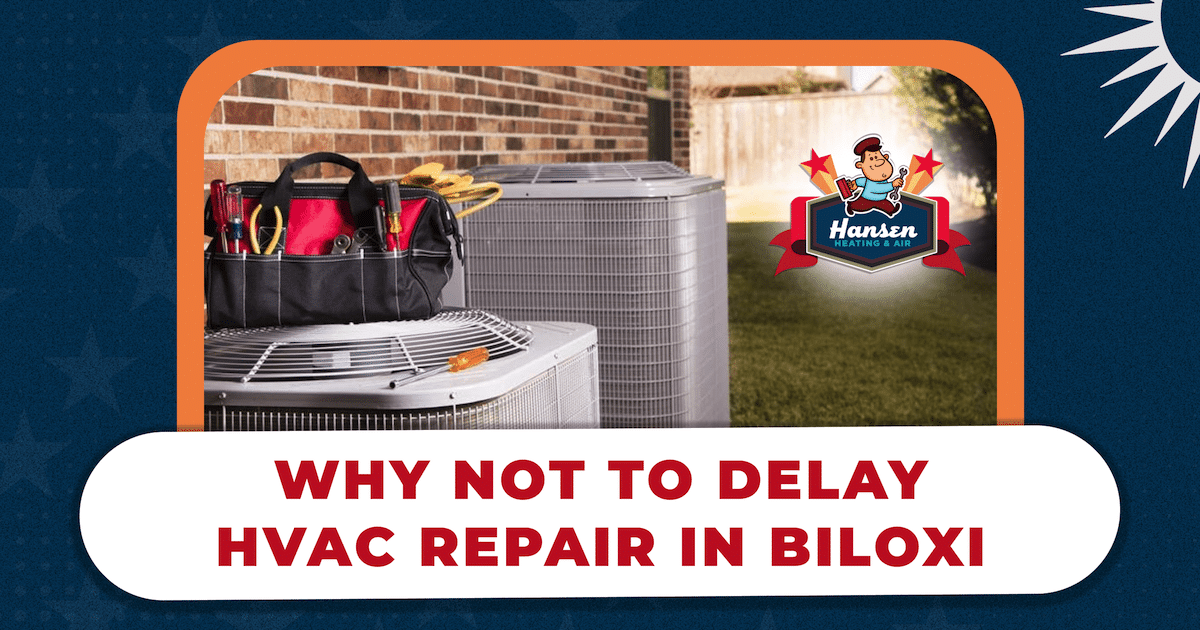 Biloxi is known for its intense summer heat and humidity. You don't want to deal with an HVAC breakdown then or any other time of the year. Whether there are signs HVAC repair is needed or a maintenance technician finds a small issue, here are reasons not to delay HVAC repair in Biloxi.
More Serious Damage Can Occur
A faulty blower, worn out fan, or clogged filter or duct can strain your HVAC system. The issue at hand may not be so terrible. But fixing it is simple compared to the trouble you may face by procrastinating. A major air conditioner or heater breakdown can cost you thousands of dollars.
Your AC/Heater Is Less Likely to Break Down
Homeowners often feel a system breakdown was unexpected. But usually, a problem has been festering for some time, leading to a cascade of failures that led to an HVAC unit not working. If you avoid delaying a repair, you can schedule a repair visit in time (hopefully your AC contractor offers 24/7 emergency service). At Hansen Super Techs, we're always available, and stock all the replacement parts needed on our trucks and in our warehouse to complete repairs quickly.
You Can Save Money
A minor fix may cost a couple hundred dollars, but that pales in comparison to a major repair or replacement. Any type of issue can reduce an HVAC unit's efficiency, including a dirty air filter. Once the issue is resolved, your system will be more cost-effective to run.
You Won't Void the Warranty
Most HVAC manufacturer's warranties require units to be properly maintained. If not, you risk voiding the warranty and having to pay the full cost of service. That goes for scheduling prompt repairs as well. You'll maintain warranty coverage (if your system is still under warranty), and the repair costs will be taken care of.
An Air Conditioner or Furnace Can Last Longer
It's often said an AC or furnace might last 10 to 15 years. But in reality, there's no expiration date. With proper maintenance and prompt repairs, a system can last several years longer than it otherwise would. It will also run more efficiently during that time, saving fuel, energy, and money.
You Don't Risk Declines in Comfort
Your HVAC unit can gradually decline in performance before it finally breaks down. Until then, you may have sleepless nights that can be more pleasant and restful if you don't delay HVAC repair. Hot air can be uncomfortable and unhealthy. There may also be humidity and air quality issues to deal with if the system isn't fixed.
Poor Air Quality Can Put Your Health at Risk
Dust, pollen, and particulates can increase allergies and be very irritating. A malfunctioning HVAC system can also lead to mold, which can have a variety of health effects. If your air conditioner isn't working right, the air won't be as clean as it should be. When a furnace isn't running properly, you can have poor air quality plus the risk of carbon monoxide in your home.
You Have a Great HVAC Contractor to Work With
At Hansen Super Techs, we have a team of dedicated, highly trained professionals ready to service your Biloxi HVAC system. Customer satisfaction is our number one priority. We also offer the Cozy Club maintenance plan, which includes regular inspections and tune-ups and savings on routine service and repairs. When you need AC repair in Biloxi, call us at 251-319-5251 for fast service.