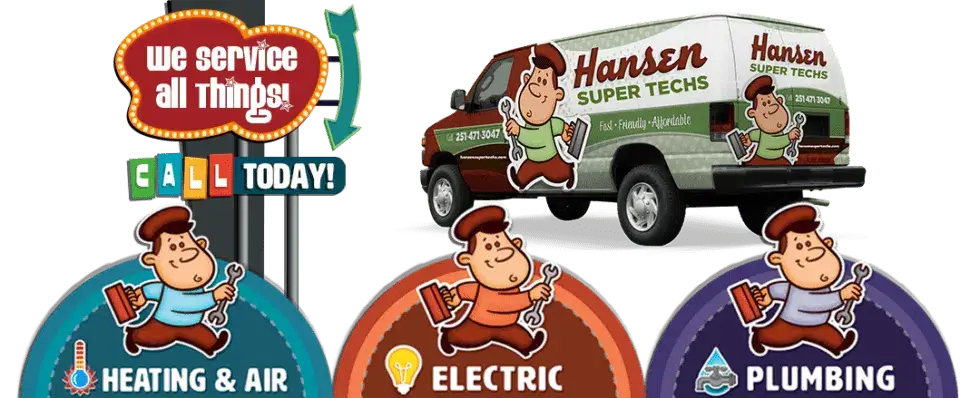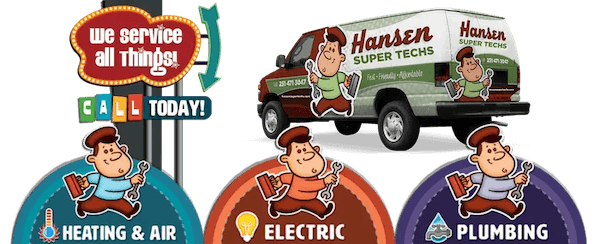 Help Starts Here for Service & Repair!
About Hansen Heating & Air
A long-standing, trusted name in the service industry!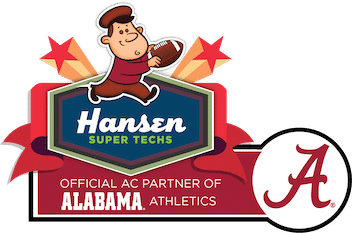 Hansen Values
Hansen Super Techs was founded on the values of being Fast, Friendly & Affordable! Our goal is a simple one; to create a lasting impression and provide dependable & affordable service to all residential & commercial customers.
Satisfaction is key & we hope our valued customers can rely on us to provide the highest level of service among our competitors & deliver that satisfaction at the best affordable price in Mobile, Alabama, Baldwin County, Alabama as well as the Mississippi Gulf Coast.
No matter why you're calling Hansen, whether you need repair, maintenance or to upgrade your system, we'll be there!
Fast, friendly and affordable—that's the Hansen Way!
Dependable Heating and Cooling Company

Since 2006, Hansen Air Pros has proudly served home and business owners in Mobile, Alabama, Baldwin County, Alabama as well as the Mississippi Gulf Coast. The long, hot summers in Mobile mean that you need an effective air conditioning system. You'll also need a reliable furnace or heat pump to keep your home warm during the wintertime. We offer 24-hour service every day of the year. We believe that everybody deserves indoor comfort. We offer financing on approved credit and regular specials to make heating and air conditioning affordable.
Let Us Serve You
When you choose us to maintain your indoor comfort, we'll treat you like family. Our goal is to provide you with top-notch service that is fast, friendly, and affordable. From heating and cooling to indoor air quality, sheet metal, refrigeration and more, you'll always get the best results by calling our experienced team at Hansen Air Pros.
Services we offer:
Furnace and heat pump repair, replacement, maintenance and installation
Air conditioning maintenance, repair, replacement and installation
Indoor air quality testing
Mobile home furnaces
Ductless systems
Mini splits
Packaged units
Air scrubbers
Air balancing
Zoning systems
Whole-house fans
Thermostats
UV lights
Air filters
Air purifiers
Energy audits
Dehumidifiers
Refrigeration
Generators
Sheet metal
Ductwork
Duct cleaning
Commercial heating and air conditioning
New construction
Remodels
Precise Heating and Air Conditioning Services
When you're looking for fast, friendly, and affordable heating and air conditioning services, we're the right company for the job. We've got a full warehouse of parts ready for installing in your heating or air conditioning system. When it's the hottest day of the summer, we know you don't want to wait all day or even all week for service. That's why we arrive at your home on the same day you call us. Our same-day installation and 24/7 emergency repair services keep you comfortable all year long. We install quality systems from reputable brands like Mitsubishi and Trane. Our team repairs and maintains all systems.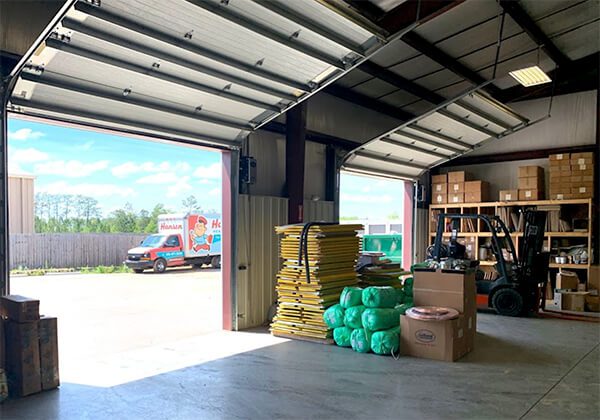 Our heating and air conditioning services include:
Replacements and new installations
Repairs
Maintenance
Maintenance agreements
24/7 emergency service
If your heating or air conditioning system needs repair, we'll always give you options. If you need a while to think about it, that's no problem. We're here and ready when you decide on a plan. If your system needs a repair that costs more than $1,500, we'll give you a confirmation call to make sure you're 100% certain about your decision. The confirmation call also includes going over the scope of the work, warranty, and scheduling. With us, there aren't any hidden fees. What you see on our written quote is exactly what you get.
Contact Us for Reliable Service
At Hansen Air Pros, we're excited to serve you in Mobile, AL, Baldwin County well as the Mississippi Gulf Coast! Our heating and air conditioning technicians look forward to helping you maintain a comfortable home. Our convenient appointment scheduling, friendly customer care team, and professional technicians make us the right choice. We guarantee that you'll be satisfied with the quality, timeliness, and professionalism of our work. For more details or to schedule an appointment for any of our services in Mobile, get in touch with us at Hansen Air Pros today.
Experience the Benefits
No weekend charges
No overtime charges
Upfront pricing
No after-hours charges
No hidden fees
Free Second Opinions
Skilled Technicians
All Models & Brands
Complete Home Services
Easy Financing
Get in Touch!
Call Us: 251-227-4441
or visit our contact page to submit your request directly to our office.
License Info
Heating A/C & Refrigeration
Contractors: # 22132
Master Gas Fitter: # MG-2057
Master Plumber: #MP-4128
Electrical: #ELEC06775
Privacy Policy | Terms & Conditions
Signup for News & Discounts!