How to Find Reliable HVAC Repair in Mobile, AL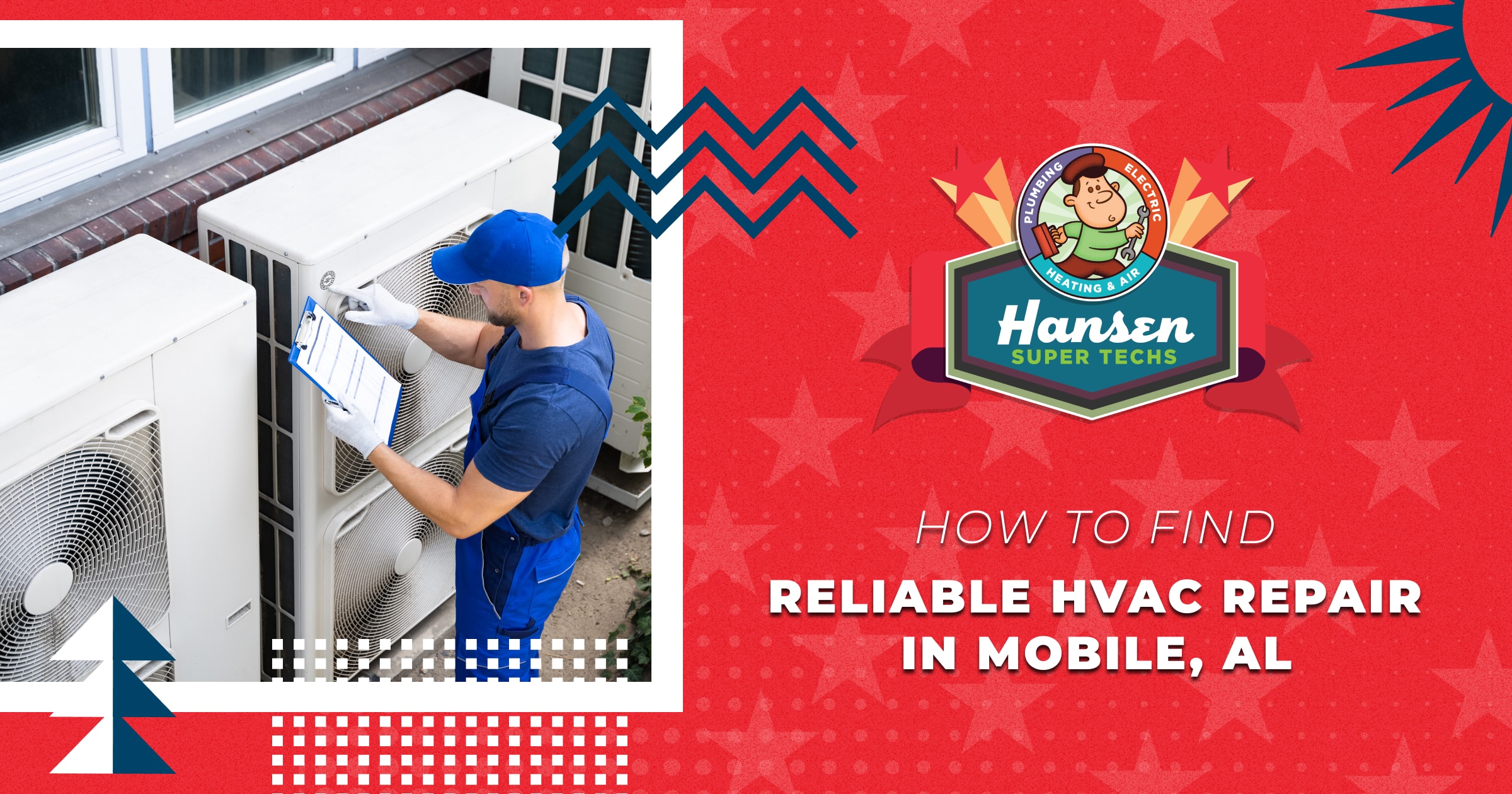 When you find yourself in need of AC repair, nothing less than the best service will suffice to get your unit up and running again. However, not many homeowners know how to find a quality AC tech who will get the job done right the first time. As local AC experts, Hansen Super Techs have decades of experience and know exactly how to weed out the best tech out of many. In this article, we provide some of the basic qualities an AC tech must have to work on your unit. 
What Should I Look for In An AC Tech?
Not every technician is as qualified as they make it seem. Because your HVAC system is expensive, using the best techs will help you save money in the long run. Look for the following items when hiring an HVAC contractor for your home. 
Proper Training and Licensing
Regardless of the state you live in, individuals who provide installation and repair services for heating, ventilation, and air conditioning systems go through a specialized training program. This program is very intensive in content and spans between six months to two years, depending on the institution. 
After meeting the appropriate hours of classroom instruction, AC techs must go through a period of hands-on training under the supervision of a seasoned technician. This training period lasts a couple of years as well. After all this, the aspiring technician is to sit for a licensing exam with the state board. After successfully passing this exam, the board will grant them the right to provide HVAC repairs in Mobile, AL after passing. 
This standard of training must be expected from any technician that enters your home to fix your AC. In some cases, the manufacturer's warranty will become void if an untrained professional attempts a repair. 
Liability Insurance
When you have somebody working on a high-dollar piece of equipment such as the HVAC unit, it is essential that they have liability insurance prior year to stepping on your property. This protects both you and the AC tech. The last thing you need is a lawsuit after the tech gets hurt on your property, or when the damage your property with negligent practices. Most liability insurance will cover the damages and help you avoid long litigation processes and out-of-pocket expenses.
On-Time Service in Mobile, AL
When your AC decides to break down, it usually does so at the most inconvenient time. During this time, you will most likely require immediate assistance to resolve the issues. It is the worst thing in the world to have to wait for service on urgent matters such as broken ACs.
For this reason, Hansen Super Techs provides quality and prompt service for the residents in Mobile, AL. At Hansen air pros, our customers come first. This service you receive will always be on time and around your needs.
Upfront Fees
Because air-conditioning repairs are often very expensive, you want to make sure that you know all the fees upfront prior to the beginning of the services. Any tech you hire should be able to provide you with a list of all the upfront fees that you could expect from their work. We do not recommend hiring someone prior to knowing the fees because that can open the door for people to take advantage of you. Unfortunately, we have heard many stories of such instances. 
Because #HansenCares, we would never ask you to commit to any kind of service agreement prior to presenting you with the fees owed. We believe that this will help us maintain our integrity and a trustworthy relationship with our valued customers.
Top HVAC Repair in Mobile, AL
Are you in need of HVAC repair services in Mobile, AL? The highly qualified and seasoned technicians at Hanson air pros are prepared to help you with your HVAC needs. With decades of experience serving Mobile and Baldwin County residents, we have all of these qualities and more to make their homes more comfortable. Contact us today to schedule your service by calling 844-425-1595.