Professional Electricians in Foley, AL – Expert Electrical Services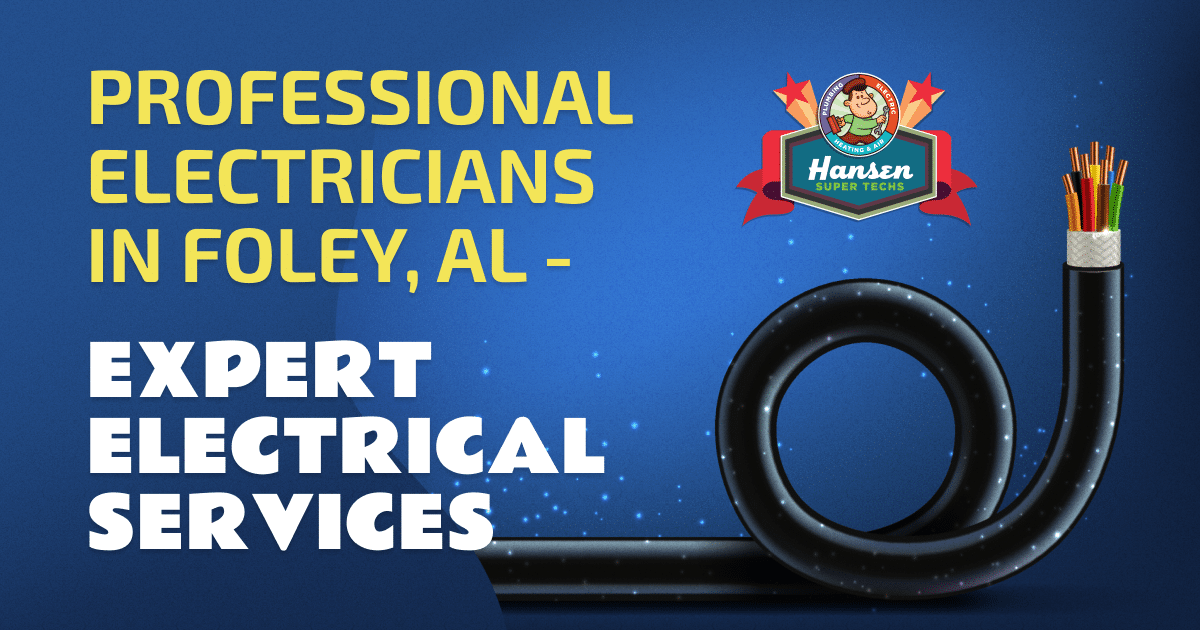 Electricity is rarely given any regard except during the times when we habitually reach for the light switch or power cord to charge our phones. But every so often, we come across issues where the light switch doesn't provide the lighting we were counting on and the outlet doesn't seem to deliver the needed juice for our phones. These are the types of situations that call for the services of an electrician and nobody is more skilled than our electricians in Foley, AL. 
Our Expertise
When you call Hansen Super Techs to hire an electrician in Foley, AL, you will experience the finest services of our highly skilled and certified electricians. Our team is complete with electrical specialists for every project, ranging from wiring, rewiring, upgrades, installations, and repairs. We are committed to providing high-quality electrical services that are safe and compliant with electrical codes. You can trust that with Hansen Super Techs, your electrical system will be in good hands. 
Residential Electrical Services
We offer a comprehensive list of electrical services, ensuring that your home is equipped with an electrical system that is safe, efficient, and most importantly, functional. Check out the list of services you can benefit from the best electricians in Foley, AL at Hansen Super Techs! 
Wiring and Rewiring
From upgrades to complete rewiring, our team of electricians in Foley, AL deliver reliability and peace of mind with the first-class services they provide. Our certified electricians use high-quality materials and their fine expertise to equip your home with the wiring it requires. 
Electrical Repairs and Troubleshooting
Is your electrical system down? Our electrical repair services offer quick and effective solutions to restore your electricity back to order. Thanks to the decades of experience our electricians possess, your electrical system will be fixed with precision and efficiency. 
Electrical Panel Upgrades
Our Electrical Panel Upgrades services enhance your electrical system's capacity and safety. Our skilled electricians in Foley, AL replace outdated panels with modern, efficient ones, ensuring your home or business can handle increased power demands reliably and securely.
Lighting Installation and Upgrades
When it's time to install a new lighting product or upgrade your current one, Hansen Super Techs got you covered. Our top-notch electricians will help you brighten up your space with energy-efficient and stylish lighting solutions. They will help you choose a lighting system that will fit your style, needs, and budget.
Ceiling Fan Installation
Ceiling fans are super helpful for keeping the air circulation going in a room. If your room is currently lacking a ceiling fan, our team of electricians in Foley, AL will be glad to handle the installation work for you. Turn to our team of experts for a seamless and efficient installation. 
Outlet and Switch Installation
We provide convenience and safety with our fine-tuned and efficient outlet and switch installations. Our skilled electricians assist with outlet installations on a daily basis, structuring a strategic plan and ensuring that installation is both safe and suitable to your needs. 
Emergency Electrical Services 
Electricity is one of those amenities in the home that displays issues when we least expect them. Usually, when the electricity goes out, waiting for days for a repair tech to show up is not an option. That is why our team provides round-the-clock services for those times when you need an electrician in Foley, AL the most! 
We are available 24/7 for emergency electrical repair services! 
Your safety and comfort is our highest priority! 
Why Choose Hansen Super Techs?
Hansen Super Techs is one of the most reputable companies to provide unbeatable services at an unmatched value. You can count on us to reap all the following benefits when hiring one of our electricians in Foley, AL: 
Fast, Friendly, and Affordable Service

Five *5* Step Customer Protection Plan

Professional, Uniformed, and Licensed Personnel

Fully Equipped Technicians 

Job Done Right the First Time Around

Satisfaction Guaranteed
Premium Electrical Services for Your Home
Are you looking for an electrician in Foley, AL? Look no further than Hansen Super Techs for prompt and lasting quality services. Contact Hansen Super Techs to schedule a service today!