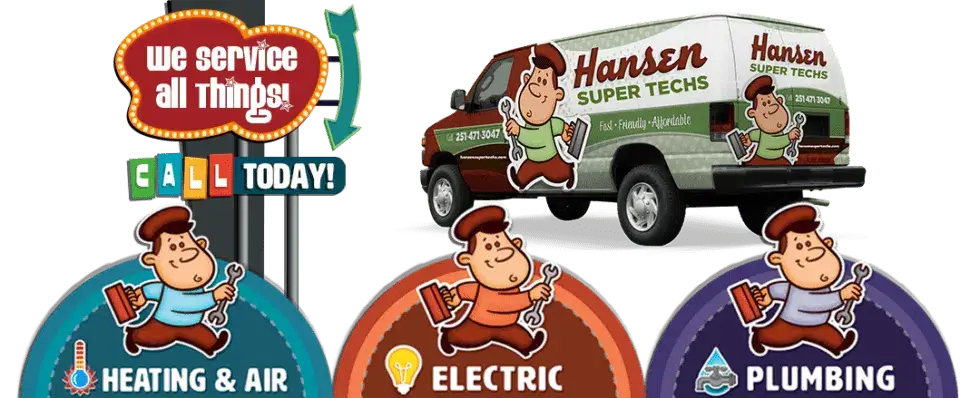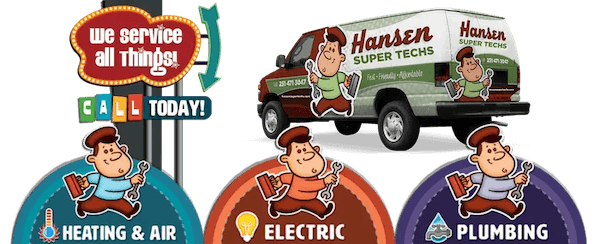 Help Starts Here for Service & Repair!
Plumbing Pros to the Rescue!
From water heaters to clogged drains & renovations, Hansen can handle all your commercial & residential PLUMBING  needs!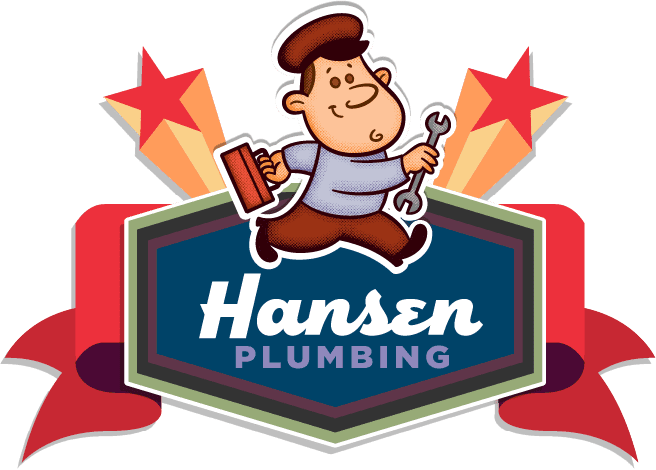 Tankless Water Heater Experts!
The licensed plumbers at Hansen Plumbing in Mobile Alabama provide plumbing maintenance, plumbing repair, drain cleaning and many other plumbing services you need. Homeowners & businesses rely on their Plumbing systems constant operation so they can enjoy a comfortable, energy efficient and healthy indoor environment.
At Hansen, we respect your budget. Before we begin work, you'll receive a straightforward estimate that includes all charges—so you can make an educated decision about Plumbing repair or service. No hidden fees, and no fine print.
Plumbing Professionals!
Plumbing Services
Hansen Plumbing provides same-day plumbing repair to residential and commercial clients throughout the Mobile AL area. We offer plumbing repair services 7 days a week, 365 days a year with no overtime charges. So if your water heater goes out on a weekend or your pipes burst on a cold evening, don't hesitate to give us a call.
Faucet Repair
Toilet Repair
Garbage Disposal Repair
Leaky Pipe Repairs or Replacement
Fixing Low Water Pressure Issues
Water Main Repairs
Overhead Sprinkler System Repairs
Toilet repair & replacement
Electric & Gas water heaters
Fixture repair & replacement
Garbage disposals
Gas Line (new gas line installation & repair)
Grinder Pumps
Kitchen sinks
Sam Plan Inspections
Whole home repipes
Water line repairs
Water line reroutes
Slab repairs
Tankless gas water heaters
If it involves your plumbing, we can fix it or install it. We also offer water heater repair and replacement, drain cleaning and sewer line repair and replacement.
If you have more than one plumbing issue you need taken care of, tell us when you call, and we can schedule everything for one service call, and save you an extra service call fee. For instance, say you need a new water heater, but you also have a toilet that won't stop running and a small leak under the sink. We can make all of the repairs in the same visit, as long as we know about them ahead of time.
Water Heaters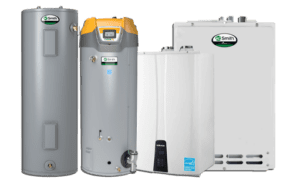 Most of us take our water heaters for granted. It's only when we take a cold shower or try to wash the dishes with no hot water that we really think about them. Most hot water heaters are hidden away in a closet or a corner of the basement, so it's a case of out of sight, out of mind.
At Hansen Plumbing, we are water heater experts. We repair and install several different kinds of water heaters, depending on your needs and budget. These include:
Tankless Water Heaters
Electric Water Heaters
Gas Water Heaters
A water heater leaking from the bottom can be a telltale sign you need a new water heater. Over the years, water heaters can corrode from the inside, and start leaking from the bottom. If you have a puddle of water under your water heater, give us a call.
If there is water dripping from the vertical piping next to your water heater, you may need a new expansion tank. If your water never gets hot, it may be an issue with the thermostat, the gas ignition, or your electric. We will always check for small problems first, before recommending replacing your water heater.
If your water heater is more than 10 years old, you may want to be on the lookout for issues. As a rule of thumb, tank water heaters last about 8-12 years.
Drain Cleaning
Our drain cleaning service is fast and affordable, and we offer up-front pricing so you know what you'll be paying before any work starts. Common drain cleaning service includes clearing of:
Main sewer lines
Kitchen sink drains
Bathroom sink drains
Bathtub and shower drains
Washing machine lines
Dryer vents
Condensation lines
Storm drains
Floor drains
If you've tried home remedies such as plunging or using a chemical drain cleaner and you still have slow operating drains, standing water in the sink or tub, a sewage backup, etc. it's time to call in the professional drain cleaning team at Hansen Plumbing.
We have several methods of clearing your drains, depending on where the clog is and what pipe is clogged. We use the latest technology, and can send a camera into your pipes if the clog isn't obvious right there near the drain. From clogged sewer lines to clogged bathtub drains, we've seen it all, and can unclog any drain.
We'll show you or tell you what the source of the problem is, and we can install traps to help prevent the problem in the future. Our technicians may also make other recommendations to help keep your drains clear.
If you have more than one plumbing issue you need taken care of, tell us when you call, and we can schedule everything for one service call, and save you an extra service call fee. For instance, say you need a new water heater, but you also have a toilet that won't stop running and a small leak under the sink. We can make all of the repairs in the same visit, as long as we know about them ahead of time.
Sewer Line Camera
Thanks to the innovation of the sewer line camera, the days of digging up the majority of a yard to find the problem in a sewer line are gone. Hansen Plumbing uses our sewer line camera to locate clogs, root damage, cracks, and other damage to your sewer line, so we can pinpoint where work needs to be done.
Camera Pinpoints Source of Clogged Sewer Line or Damaged Sewer Line
Using a high resolution sewer line camera allows us to do a visual inspection of the inside of your pipes, even though they are underground. The waterproof camera is attached to a flexible rod. Your Hansen Plumbing technician will insert the rod into the pipe, allowing him to see the pipe, any clog, cracks, punctures or other issues.
During the sewer line inspection, the radio transmitters on the camera record the depth and physical location of any clogs or damage to the sewer line. This allows us to diagnose the problem, and pinpoint what section of the pipe needs to be cleaned, repaired or replaced.
We recommend a sewer line inspection if you are having repeated drain backups, multiple slow drains or clogs. And of course, if you have sewage backups or evidence of raw sewage in your yard, the sewer line camera can locate the source of the problem.
If it's just a clog, we can perform sewer line cleaning right then and there to jet away the clog. If the video shows cracks, punctures, misalignment of the pipe, tree root infiltration or something else, we will determine the best way to address the issue. Our technicians will then tell you what the problem is and discuss sewer line repair or replacement options with you. We will not perform any repairs until you give the go ahead.
We also give free second opinions if another company has given you an estimate that you think is just too high.
Sewer Line Repair
Hansen Plumbing is your go-to plumbing company to call in the Mobile AL area for sewer line repair and sewer line replacement as well as sewer line cleaning. We offer same day service at affordable prices.
Signs you may have problems with your sewer line include:
Sewage backing up into your basement floor drain or into your sinks
A stink of sewage on your property and new and persistent wet spots in your yard
Bright green grass in one section of your yard
If you have any of these issues, call Hansen Plumbing right away at 251-471-5151 to schedule same day service
We can address a number of problems requiring cleaning, or sewer line repair or sewer line replacement, such as:
Broken or cracked pipe – sometimes due to age, shifting soil, frozen ground, etc.
Clogged sewer line – grease buildup or a foreign object that got flushed down the toilet can cause a blockage.
Belled pipe – a section of the pipe has sunk due to soil conditions, causing a section of the pipe to bend down, which allows paper and waste to accumulate rather than being flushed out.
Roots in the sewer line – Tree or shrub roots have infiltrated the sewer line, causing both a clog and a leak.
And more
We can send our sewer line camera into the sewer line to diagnose the issue and formulate a plan. We don't start any repairs or replacement until we talk with you and make our recommendations.
Traditional Sewer Line Repair
We can do both open trench traditional sewer line repair or sewer line replacement where we use a backhoe to dig a trench and access the sewer line. All of that dirt we move is then put back in the trench after repairs or sewer line replacement are complete, and we seed the area.
Trenchless Sewer Repair
In order to avoid damage to your yard, property or driveway, we also offer trenchless sewer repair. In this method of sewer line repair, we make small access holes on the surface where the damaged pipe begins and ends (as determined by the use of the sewer line camera). Our hydraulic machine then pulls replacement pipe through the sewer line path and breaks up the damaged pipe at the same time. The new pipe is much stronger and resistant to leaks than the old pipe, and has a long life expectancy.
We will discuss the costs of each type of repair. Costs will vary depending on how many feet of pipe we are replacing, the depth of the pipe, and other factors unique to your property.
Pipe Relining
Pipe relining is another form of trenchless sewer repair, in which we repair the damaged sewer pipes by essentially creating a pipe within a pipe. We pump in epoxy relining materials which mold to the sides of the existing pipe, filling cracks or pinholes and creating a new smooth, seamless inner wall of your sewer line.
Get in Touch!
Call Us: 251-225-3121
or visit our contact page to submit your request directly to our office.
License Info
Heating A/C & Refrigeration
Contractors: # 22132
Master Gas Fitter: # MG-2057
Master Plumber: #MP-4128
Electrical: #ELEC06775
Privacy Policy | Terms & Conditions