Top Reasons to Call an Emergency Electrician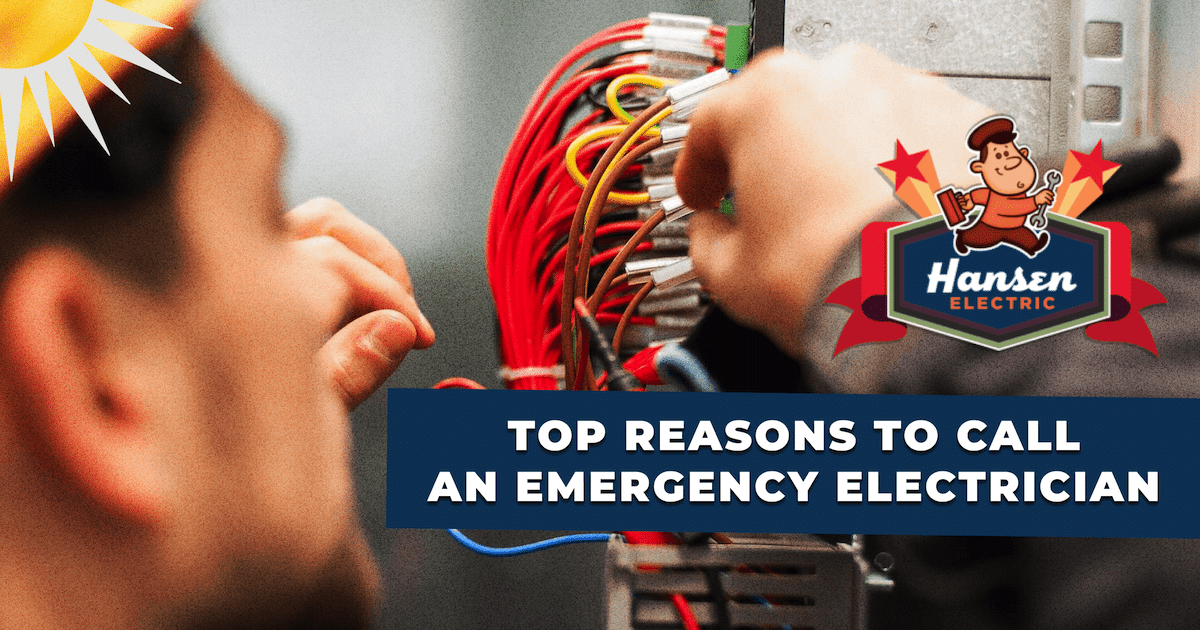 The use of electricity is a daily necessity in most homes and it's important to be aware of all the reasons to call an electrician. It is obvious in some cases that help is needed, but not in others. We rounded up the top signs that your electrical system needs an expert's help. Read on and file this article in your homeowners under the heading "when to call an emergency electrician near me".
Electrical Damages Caused By A Storm
With the upcoming change in seasons, storms are bound to happen. As we know, Alabama is known for its hurricane storms that bring much structural and electrical damage. After a storm, it is advisable to keep the power off and call an emergency electrician for an inspection. An electrician will find loose or exposed wires that you missed and repair potential damages. Doing so will ensure that your home is in the safest condition for your family to inhabit. 
Exposed Wires
Exposed wires must be treated as an emergency for several reasons. Most importantly, they can be the cause of a fire. Lacking the proper concealment, they may lead to an electrical shock that can hit neighboring flammable structures of the home. In some instances, they also lead to electrocution. All of these concerns are health hazards and can leave you without a home. Therefore, if you see exposed wires, call an emergency electrician to make the necessary repairs for you. 
Sparkling Outlets
One sure sign of an electrical problem is when you have sparkling outlets. If you have anything near those outlets like plants, furniture, or drapery, they can catch on fire. Sparkling outlets indicate that the circuit board is overloaded. An outdated wiring system eventually breaks down as well, leading to excessive problems. Additionally, faulty appliances play a significant role in causing the outlet to burn, smoke, and spark. 
Regardless of the cause, you will need an emergency electrician like Hansen Electricians to sort out this issue. 
Sudden Power Shutdown
An unexplained power outage is a fairly obvious electrical emergency. Unless the outage is planned by local authorities, you will need to call an emergency electrician to help bring back the electricity supply. 
Start by contacting your utility company or visiting Alabama Power's Outage Alerts web page. If there aren't any alerts for local outages, the issue may be caused by your internal electrical system. 
For this problem, you will need the help of top experts. With Hansen Electricians' recent distinction as the "Best Electricians in Gulfport" by Expertise.com, you can rely on the best electrical services for your home. 
Wet Power Outlets
Wet power outlets are very dangerous and are a recipe for an electric disaster. They can be caused by burst pipes that flood the home with excess water or weather storms that bring excess water. 
In the case of wet power outlets, it is important to call an emergency electrician immediately. We all know that water and electricity are a life-threatening combination. Allow the experts to use their training and knowledge to fix this problem safely. Also, keep your children and pets away from such outlets as well. As the saying goes, it's better to be safe than sorry! 
Flickering Lights
Flickering lights can be an indication of a problem with how the electrical wires are connected. They are also caused by old light bulbs. Sometimes, your lights will flicker in the midst of a weather storm. If this problem continues to persist, you will need to contact an emergency electrician who will narrow down its cause.
Flickering lights can very well affect your appliances as well. This can lead to food spoiling in your fridge and general improper function of the stove, dishwasher, and other major appliances. 
Are you experiencing any of these electrical issues in your home? Don't wait for them to worsen and contact an electrician now. Hansen Electricians provide fast, friendly, and affordable service that will allow you to maintain the comfort and safety of your home.
Call Hansen Today
Contact us today by calling (251) 227-4441 or by filling out our online request form. At Hansen Electrics, we put you first and you will receive the most reliable service that you can count on!