When Should I Schedule HVAC Maintenance?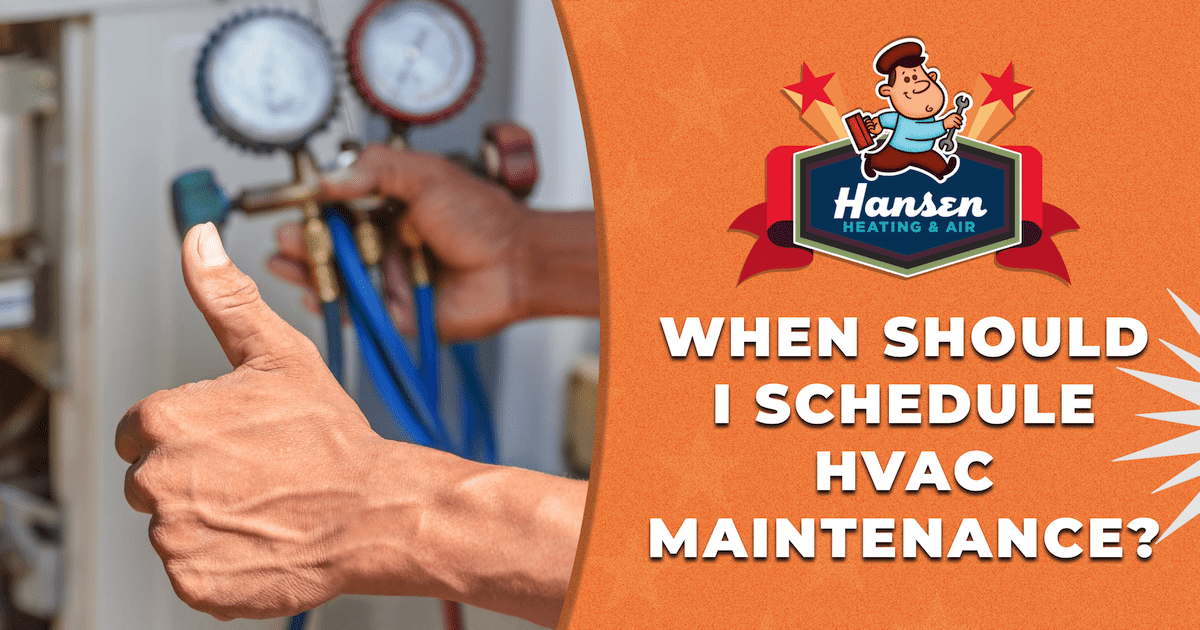 At Hansen Air Pros, we strongly believe in the importance of cooling and heating system maintenance. We even offer our Cozy Club membership to ensure you get two maintenance calls per year, so your system runs safely at peak performance and major repairs/breakdowns can be avoided. We'll let you know when it's time for service. As for when HVAC maintenance should be scheduled, we'll answer that question below.
The Best Time to Schedule HVAC Maintenance
Your system should be maintained before you need it the most. This means an air conditioner should be serviced in the spring, and a heating system in the fall. The technician can then ensure it's ready to handle peak demand. Any minor issues can be repaired so the system is ready to go.
There are also fewer emergency calls during these times. In winter and summer, technicians are out busy dealing with breakdowns, which must be corrected before anyone is in danger. But by scheduling maintenance in advance, flexibility is on your side, meaning a service time can be set around your routine.
When to Schedule HVAC Maintenance Between Routine Visits
Sometimes an annual tune-up and inspection isn't enough. By knowing the signs to look for, you can schedule HVAC maintenance as it's needed. You can avoid more serious and expensive repairs by contacting us because of:
Higher Energy Bills: If you run your AC or heater consistently, your energy bill shouldn't vary much from month to month. A sudden spike in energy costs can mean your system is running less efficiently. There's usually a reason for this; your technician can identify and fix it before more damage occurs.
Reduced Efficiency: Aside from higher utility bills, you might notice a reduction in comfort. Call for maintenance if your home is warm yet the AC is running all the time, or the thermostat reading does not match how it feels.
A Noisy AC/Heater: By now, you're probably familiar with the sounds your system normally makes. If you're furnace is hissing or roaring, or AC is grinding, squealing, banging, or making some other scary sound, that's a strong indication something is wrong.
Poor Air Flow: Whether there's no air at all or air flow is weaker than usual, there could be a clogged filter, fan issue, or blockage in a duct. Whatever it is, Hansen Air Pros will find the problem and quickly resolve it.
Frequent Repairs: If your AC has been repaired several times in recent months, chances are it will need to be again. Multiple failures often mean the system is near the end of its life, but we can determine if a few adjustments and minor repairs will do or it's time to think about replacement.
An Aging HVAC System: Older heating and cooling systems should be maintained more frequently. After all, they are more prone to issues and there are ways to bring up efficiency. Maintenance can increase its lifespan by a couple of years. So even if your AC or heater is advanced in age, a tune-up may be all you need.
Schedule Preventative Maintenance with Hansen Air Pros
If you live in Mobile, Alabama, or the Mississippi Gulf Coast, you can trust Hansen Air Pros to perform preventative maintenance on your heating and cooling system. We provide a 24-point precision cooling tune-up and 21-point precision heating tune-up during the year. A ductwork inspection can also be performed to identify and fix leaks, airflow issues, and air quality concerns. Join the Cozy Club for priority service and call 251-758-2513 to request assistance.