Why is Electrical Maintenance Important?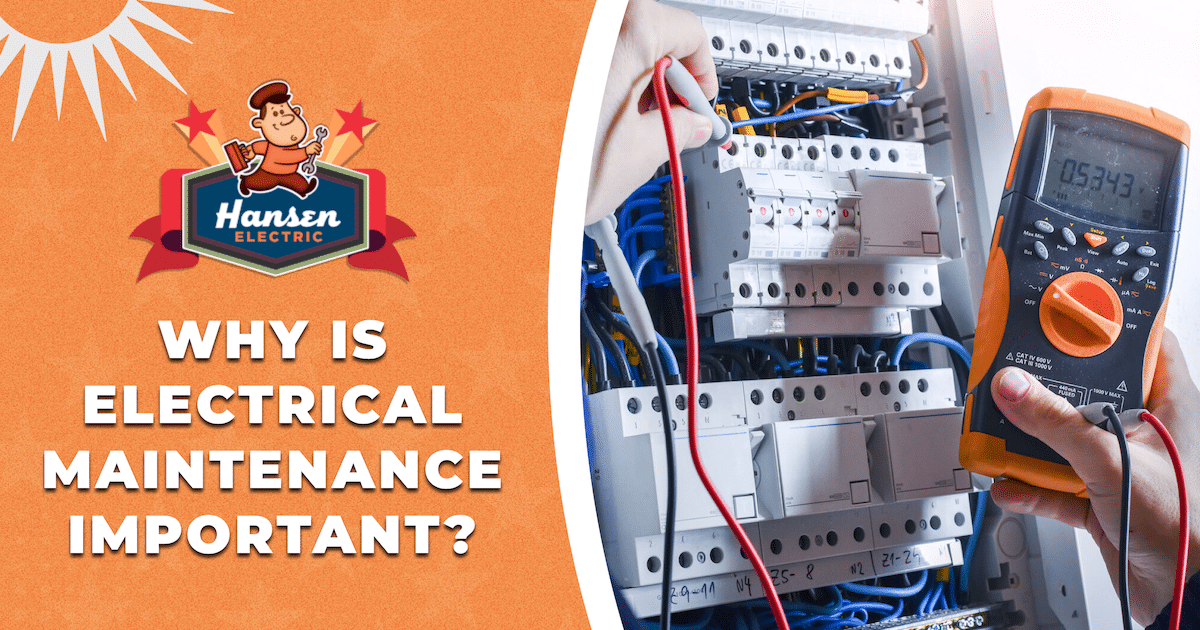 We've all heard it said many times about pretty much every issue under the sun. "If it ain't broke, don't fix it". However, when it comes to household appliances and essential resources like plumbing and electricity, nothing more can be further from the truth. Electricity is what makes our home warm, safe, and functional in today's modern world of modern conveniences. 
Without it we won't be able to power our appliances and complete the most basic daily tasks like bathing and cooking. Because of the integral role electricity has in our daily lives, we will discuss the importance of electrical maintenance and what it entails below.
Ensure Safety
The most important reason why electrical maintenance is important is that it ensures the safety of your home and those living with you. Electrical technicians conduct a thorough inspection to ensure that all the wires are connected and concealed correctly. They also ensure that the current of electricity is being circulated throughout the electrical systems in an appropriate and safe manner. 
For example, there are times when outlets need special attention because they do release Sparks that could potentially start a fire. Overall, an electrical maintenance inspection will ensure that everything is working in the safest way possible and that your family isn't facing any hazardous risks.
It Protects Your Equipment 
The equipment and appliances we use in our homes are essential to everyday life and are often very costly. For this reason, most homeowners take extra care to ensure that their equipment is properly maintained. This also ensures the proper electrical maintenance of your appliances. Every piece of equipment that uses electricity Can be affected by poor electricity function. 
During an electrical maintenance inspection, your technician will take extra measures to ensure that each appliance is circulating the right amount of electricity and that all electrical systems are in working order. This increases the longevity of all your equipment and ensures that you get the most bang for your buck. Because let's face it; in today's economy an extra purchase of costly electrical equipment can feel extremely heavy on our wallets. 
Prevents Costly Repairs
Routine electrical maintenance visits are also very helpful in preventing costly repairs. An electrician is able to assess the condition of your entire electrical system and pinpoint areas of improvement and any potential future problems. He or she will be able to recommend any repairs and even provide them. What seems like a very small issue can quickly grow into a bigger problem that will require extensive repair. 
The purpose of maintenance visits is to mitigate these costly repairs and help you save money in the long run. Plus, who likes to deal with equipment breaking down or electricity going out? It is rare to find someone who enjoys these problems. Therefore, we recommend keeping up with routine electrical maintenance visits.
Reduces Energy Costs
If you love to save money, then staying on top of electrical maintenance will help you keep up with your financial goals. Occasionally, our homes consume more energy than they should. However, you won't know that until a professional examines your electrical systems. An electrician will pinpoint any energy consumption problems and help formulate a solution to improve them. This will reduce energy costs and help you decrease your bills.
What
Electrical Maintenance
Entails
So what does an electrician do to maintain your electrical systems? Here is a quick breakdown of some of the things that an electrical maintenance visit entails:
Test run of electrical currents, parts, and the system as a whole two ensure that everything is running smoothly

Determining and monitoring any potential issues that may grow into bigger problems in the future

Fixing any elements such as faulty wiring to ensure safe and efficient electrical work throughout your home 

Making replacements and adjustments in the electrical systems as needed, to ensure the efficient function of devices and appliances
Every home is unique and has its own concerns. Your electrician will be able to formulate an electrical maintenance plan that works best for your household needs.
Schedule Your Electrical Maintenance Visit Today!
Clearly, electrical maintenance is extremely important for the safety and comfort of your home. Hansen Electricians have decades of experience in providing fast, friendly and affordable electrical service to ensure the most optimal home comfort. Contact us today to schedule your maintenance visit by calling 844-425-1576, or visit our contact page to submit your request online.