Looking For An AC? Here's What You Should Know Before Buying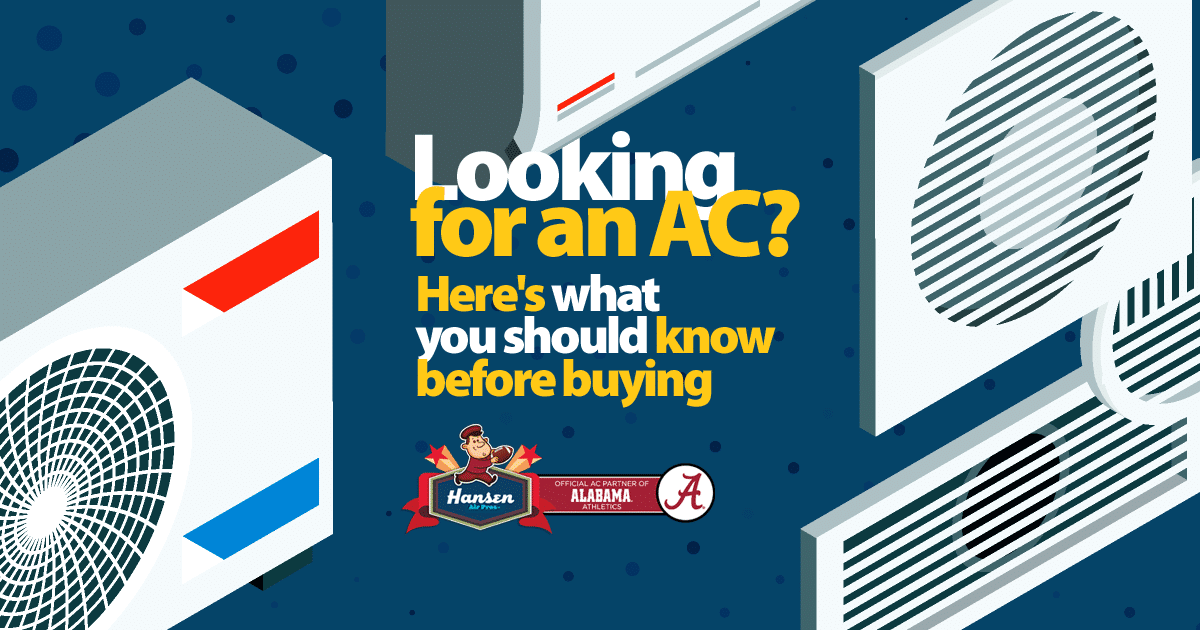 Air conditioner installation is one of the most important upgrades that will serve your home for decades to come. Because we expect our air conditioners to last us for many years, it is essential to know some key information before making this big purchase. We compiled several key factors anyone should consider prior to buying their new AC unit and outlined them below. 
Tonnage
Tonnage is the measurement of British Thermal Units (BTUs). This measurement helps determine the cooling capacity that would be required of your newly installed air conditioning unit. To calculate the BTUs required for your home, you will need to multiply the number of square feet inside your home by 25. Then, divide this number by 12,000 BTUs to get the tonnage required for your air conditioning installation. Unsure of your math skills? Use this AC BTU Calculator for an easy and accurate calculation. 
Energy Efficiency
Energy efficiency is very important in an air conditioning unit. The higher efficiency, the less power it will require to cool the home. As a result, your energy bills will be lower and will save you money in the long run. Energy efficient air conditioners also help conserve energy and care for our planet better. 
Understanding the seasonal energy efficiency ratio or SEER Rating System is very important during the air conditioning installation process. Check our blog post where we dive deeper into this system.
Size of the Room
As we discussed earlier, tonnage is very important in determining the efficient function of your AC. Tonnage is also very dependent on the size of the room in which the air conditioning installation will take place. According to Good House Keeping, the new AC unit needs to accommodate the following factors: 
High ceilings

The average number of people using the room

If there are any windows and natural sunlight

Where the room is located in proximity to the kitchen and other locations with heat-generating appliances
It is important to consider these factors when determining how much energy your AC needs to produce in order to keep your home comfortable. 
Installation
The process of air conditioner installation will vary according to the type of air conditioning unit you choose and its manufacturer. Currently, the HVAC industry has two main types of AC units; ductless mini split and central air conditioning. The ductless mini split is limited to one room at a time, while central air conditioning will serve the entire home at once. These two systems also require different air conditioner installation methods, and both can be complicated. Hansen Air offers the best services for AC Installation in Mobile, AL. 
Air Quality
Air conditioners are responsible for the indoor air quality within the home. Since the air circulates through vents, it is important to ensure that your air conditioner installation comes with equipment that enhances air quality. Hansen Air offers superb indoor air quality services in Mobile, AL equipping your HVAC systems with the following options: 
HEPA filters

Germicidal UV lights

Air purifiers

Home humidifiers
Our technicians and experts in these air quality features will help determine the type of air quality services according to the needs of the home. 
Blower Size
Understanding the required blower size is just as important as the required tonnage for keeping the AC unit efficient. If the blower is too small in relation to the room and tonnage required, your space will not cool at the required rate. As a result, the AC will work hard and result in lower efficiency. Lower efficiency contributes to higher bills and higher energy expenditures, as well as a shorter lifespan of the entire HVAC system.
Are You Ready For Your
Air Conditioning Installation
?
Clearly, there is a lot to consider when preparing for an air conditioner installation inside your home. With decades of experience, our expert air conditioning technicians are prepared to assist you in every step of selecting and installing the right air conditioner for your home. Contact Hansen Air Pros online for the best AC installation services in Mobile, AL, or call us at (251) 274-8553.