What is an AC Capacitor?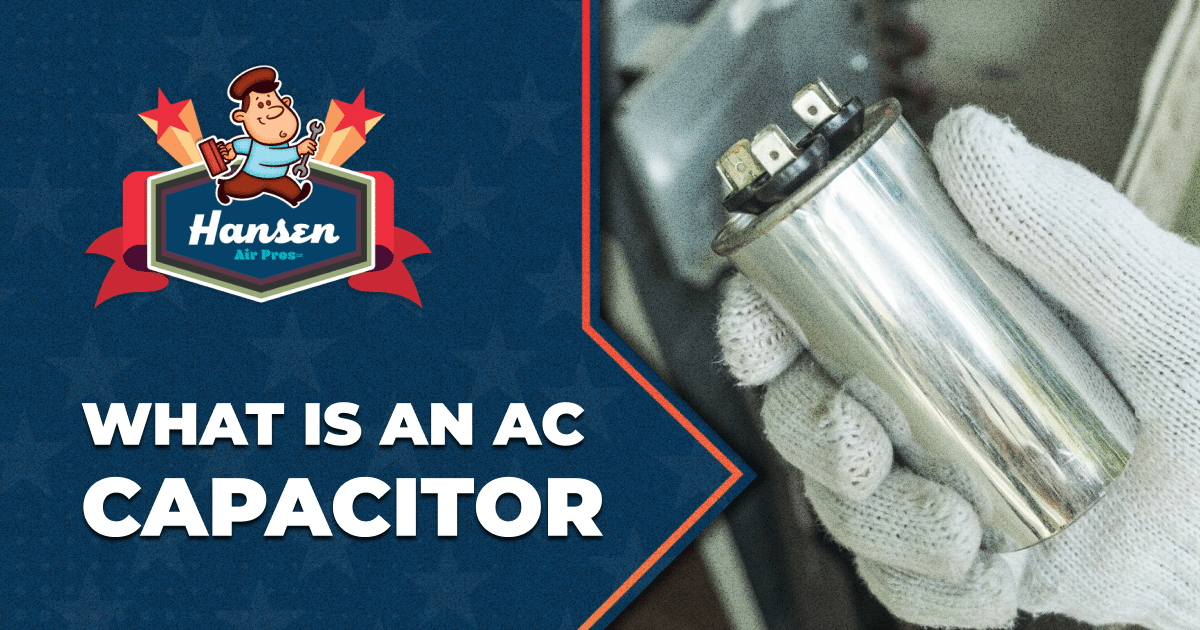 The world of air conditioning is complex and foreign to most homeowners. However, having a basic knowledge of its various components can serve you well when things begin to break down. One of those components is the AC capacitors. 
The highly trained technicians at Hansen Super Techs compiled this article that defines what AC capacitors are and their integral role in the function of your HVAC system. We also provide a quick overview that indicates when your capacitor needs replacement. 
The Importance of
AC Capacitors
AC capacitors are a special set of electrons located on the inside of your unit that provide the energy your AC needs to start its operation. Capacitors are made up of two metal conductors that have a piece of insulating material in the middle. As the AC runs, they store energy inside their battery-shaped units. This stored energy is then used to power the AC up when you turn it on. In essence, AC capacitors are like car batteries; without them, your AC units will not run. 
If you're having trouble starting your AC, it may be an indication of a needed repair. Check out the blog post to learn about some of the other signs that your HVAC system needs repair. 
Start vs. Run
AC Capacitors
Capacitors are different from one unit to the next but in general, there are start and run AC capacitors. Let's take a look at how these two types of capacitors differ. 
Start Capacitors
The role of these capacitors is to provide the required energy to your unit to begin cooling your home.
Run Capacitors
Once the start capacitors provide the AC with that first burst of energy, the run capacitor takes over to provide a continued supply of energy that allows the air in your home to remain cool. 
Both capacitors work together to provide the cooling effect we so desire throughout the hot summer days. Usually, these capacitors are installed individually in the AC but a dual capacitor is also available. Whether you have a single or dual AC capacitor will depend on the design of your unit and your technician's recommendations. 
Reasons For an
AC Capacitors
 Replacement
As with anything else in the home, AC capacitors do require replacement from time to time. The time frame between each replacement varies based on a couple of factors which are broken down below. 
Overexposure to Heat
Heat is what damages a capacitor the most. And yes, that sounds pretty ironic considering that ACs are designed to shield us from the heat. But it's not the heat of our homes that capacitors are damaged by, but by the sun rays beating down on the outdoor unit all day. 
During the hot summer months, it is important to ensure that your outdoor unit is shaded away from the sun. Overexposure to the heat causes the AC capacitors to work harder, which shortens their lifespan. 
Voltage Rating
The voltage rating of your capacitor has to be chosen appropriately to the size of your unit. Though a smaller voltage rating won't damage the unit, its lifespan will be significantly shorter than the capacitor that is chosen by your technician. Make sure to consult a professional before choosing a capacitor yourself. Choosing an incorrect voltage rating will hurt you financially in the long run. 
Its Age
Clearly, we now see that AC capacitors are great. But as with anything great in life, they do have a lifespan. As they approach the end of their lifespan, they begin to break down and fail. Sometimes no matter what you do, the capacitor will need to be replaced simply because it is the time to do so. 
During each maintenance visit, AC technicians check the capacitors to ensure that they are in optimal working order for the upcoming season. If needed, they will recommend and perform a replacement in accordance with the homeowner's wishes. Check out our blog to learn about more benefits of having an AC maintenance plan in place. 
Contact Hansen Super Techs Today!
Have you had a maintenance visit for your AC unit in the recent year? If not, Hansen Super Techs is here to serve you. Our professional and friendly techs are available around the clock to provide you with the service you need in Mobile, AL. Contact us today to schedule your visit by calling 844-425-1595.