When To Schedule Air Quality Testing Services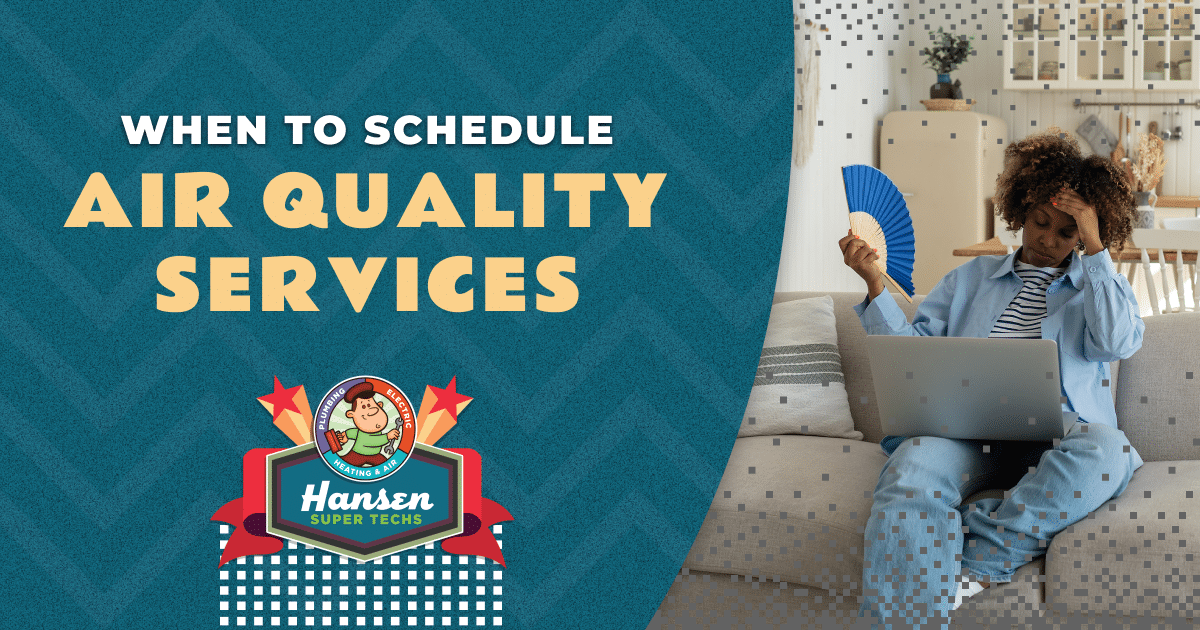 With all the services offered by heating, ventilation, and air conditioning (HVAC) services, it can be hard to know what services you need and when to schedule them. We understand this dilemma and have written a handful of blogs highlighting various services such as AC repair and maintenance and provided guidance on when to schedule them. In this blog, we will focus on indoor air quality (IAQ) services or and give you pointers on when to schedule IAQ testing in Biloxi for your home. Read on if you're wondering if you need such services today. 
Regular Maintenance 
The first good reason for scheduling your indoor air quality services is for regular maintenance. Doing so offers the home a variety of benefits including the following:
Improved AC Efficiency
Air conditioning units have a great impact on the quality of air inside your home. In fact, some air quality services focus on cleaning components of the AC such as the air filters, coils, and ductwork. All of these components play a role in the quality of air you breathe at home. 
Improved Indoor Air Quality
Air quality maintenance services are great because they help improve the overall air quality at home. These services identify and remove toxins, pollutants, gasses and other negative particles in the air. 
Healthier Atmosphere
Air quality services are great for maintaining a healthy and clean atmosphere. This is important for everyone at home, but including those with weakened immune systems or chronic respiratory conditions. 
Moving to a New Property
If you're moving to a new property, we highly recommend IAQ testing in Biloxi to ensure that your new house is safe for everyone who will live with you. This is especially true if your home is newly built as many of the construction materials contain harsh pollutants. 
Poor Indoor Air Quality
If you're concerned about poor indoor air quality in your home, you may benefit from air cleaning or testing. You should be concerned about air quality when you notice the following issues:
Increased levels of moisture in the air

Moldy or musty smells

Smells of cooked oil that won't go away

Persistent cigarette smoke

Excessive dust or stuffiness

Health symptoms like migraines, congestion, coughing
If any of these issues apply to your home, we encourage you to call and schedule IAQ testing in Biloxi as soon as you can. 
Renovation or Construction
During or after a renovation or construction project, scheduling air quality services can be beneficial. Construction activities can generate dust, debris, and potentially introduce pollutants into the air. As we previously mentioned, some construction materials contain toxic chemicals that must be cleared from the air before residents begin using the home. The only way to tell if these toxins are present is through an IAQ test. Professionals can assess the air quality, perform necessary cleaning or filtration, and ensure a healthy environment.
Preparing for a New Baby
Another good reason to schedule IAQ testing in Biloxi or other air quality services is when your family is preparing to welcome a new addition. Babies come with a new set of lungs and an undeveloped immune system that requires extra love and attention. The cleaner the air in your home, the better it will be for your baby. So add the IAQ test to your nesting list and make sure your home is free of dust, pollutants, and other harmful chemicals. 
Frequently Asked Questions: IAQ Testing
What is involved in an indoor air quality test?
Indoor air quality testing is a comprehensive test usually conducted by a computerized detector that identifies any present pollutants in the air. Usually this system generates a report for the HVAC technician who then delivers the report to the customer and helps them formulate a game plan for making the necessary improvements. 
What is the OSHA standard for air quality?
The Occupational Safety and Health Administration (OSHA) does not have a measurable standard for the air quality of buildings and homes. However, you will find guidelines for other factors of air quality such as humidity, ventilation, and cigarette smoke. 
Schedule Your IAQ Testing in Biloxi
Have you been unsatisfied with the quality of air in your home? Contact Hansen Super Techs and schedule your indoor air quality test today. With the help of our air quality specialists, your home will once again be safe and comfortable.