5 Reasons for a Heater Replacement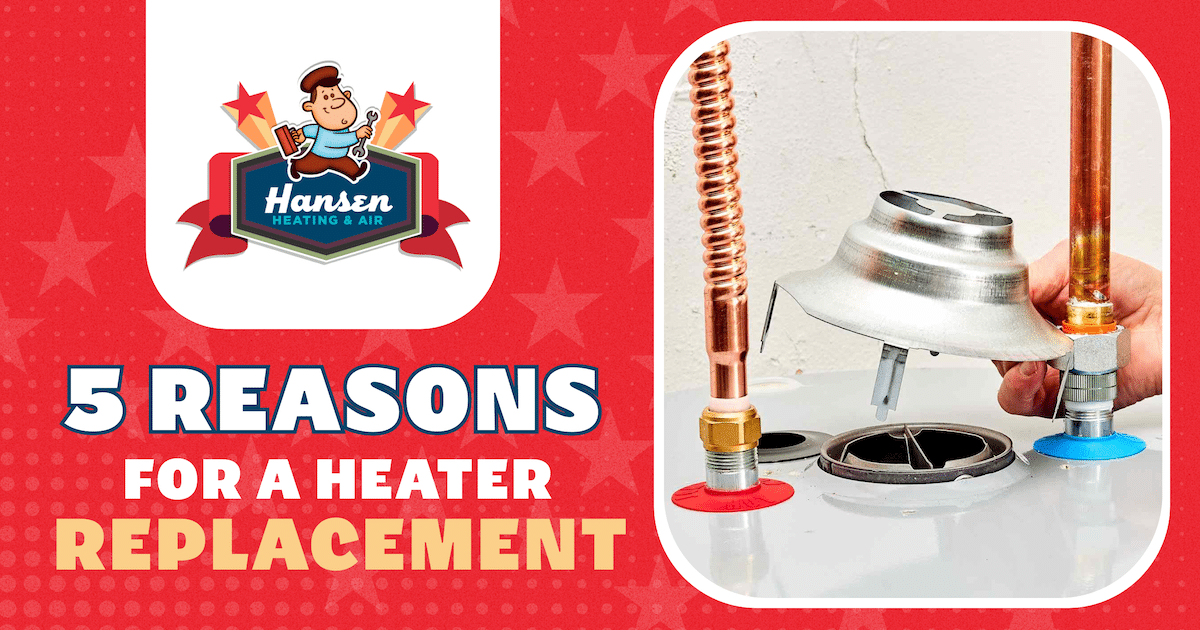 As we approach the new fall and winter seasons, the demand for heating use inside our homes will only increase. Therefore, it is important to ensure that your heater is in the best working order to accommodate the needs of your home. 
At Hansen Super Techs, our goal is to ensure that our customers in Gulfport, MS, and its surrounding areas are comfortable in their homes all season long. Thus, we created a list of the most common signs that your heater may be due for a replacement. Do you need a heater replacement in your home? Read on to find out. 
1. Decreased Efficiency 
One of the signs that your heater may need to be replaced is a decrease in its efficiency. This can be caused by a variety of factors like clogged air filters and ducts, low refrigerant fluids, dirty coils, and a whole host of other issues. 
You will notice a decrease in efficiency when your home isn't warming up as fast as it used to, while the bills continue to climb higher. When this happens, it is best to contact an HVAC repair tech in Gulfport, MS for a thorough investigation of the problem. It can be a sign of normal wear and tear, or it may require a quick repair to optimize the efficiency levels again. 
Read our blog post to learn more about how to find out the efficiency of your heater. 
2. Increased Repairs
Have you been needing HVAC repairs in Gulfport, MS more often? This may be a sign that perhaps your heater is at the end of its lifespan. It is one thing to replace a part here and there, but when it becomes a constant issue, replacing it will be the best option. 
When repairs increase, a heater replacement will help save money on repair costs and your energy bills. Read our blog post on some of the factors to consider when buying a new furnace. 
3. Excessive Noise
A noisy furnace can be one of the strongest reasons for a heater replacement. It can be a nuisance to deal with the excessive noise, but what is more concerning is its root cause. The weird sounds you hear from your furnace can be caused by one of the following: 

Dirty Igniter/Burner

Malfunctioning heat exchanger

Loose doors and panels

Worn-out blower bearings

Loose blower motor

And more…



These sounds will need to be looked at by an HVAC repair tech as they can lead to greater problems. Find out why your furnace is so loud in our blog post on the different types of sounds.
4. Decreased Indoor Air Quality
One of the biggest driving factors that will make you consider a heater replacement is a decrease in indoor air quality. Signs of decreased indoor air quality include: 
Increased accumulation of dust

Excessive stuffiness/mugginess

Migraines

Increased allergies, coughing, and respiratory issues

Foul smells
The most significant concern in indoor air quality is a leak of carbon monoxide from a broken heat exchanger. In this case, you will need to vacate the property immediately and contact an HVAC repair tech in Gulfport, MS for emergency assistance. Exposure to carbon monoxide will lead to very toxic and hazardous health conditions. 
A broken heat exchanger is one of the leading reasons why you shouldn't delay HVAC repair. Learn about the other emergency repairs by reading one of our recent blog posts. 
5. The furnace is Over 15 Years Old
Everything in life must come to an end, including the heaters in our homes. If your furnace is over 15 years old, it may be coming to the end of its lifespan. As it gets older, you will notice all of the aforementioned issues presenting themselves in your heater's function. 
To maximize the use of your heater, it is best to keep up with regular maintenance checks that help avoid early heater replacement. Check out our blog to learn when your should schedule your HVAC maintenance visit and why it is so important. 
HVAC Repair in Gulfport, MS
Have you noticed any of these signs in your home's heater? Contact Hansen Super Techs today to schedule a repair or a heater replacement service. We are available 24/7 to help you stay safe and comfortable in your home. Call us at (844) 425 -1595.