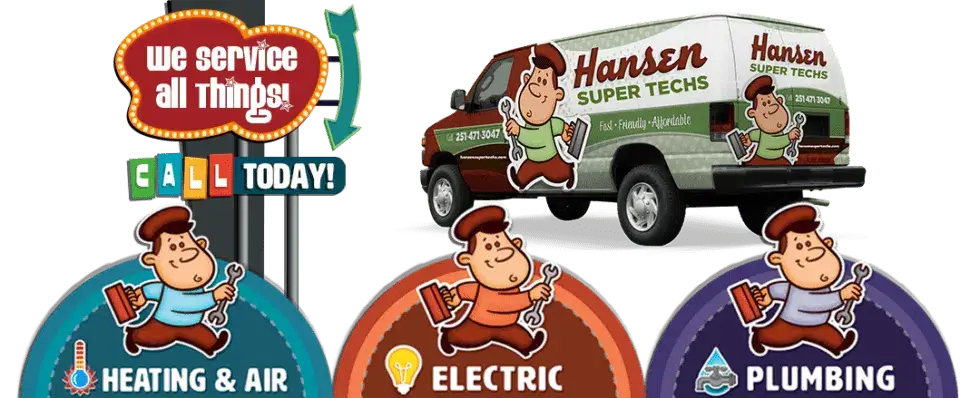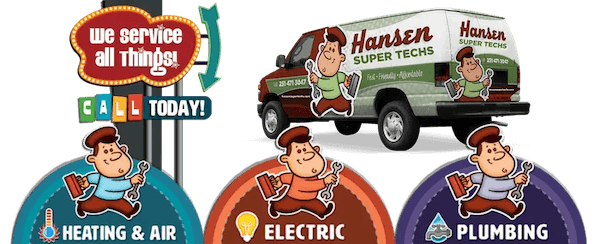 Help Starts Here for Service & Repair!
Indoor Air Quality in Daphne, AL
The modern home is well-insulated and well-sealed, which is good for your energy bills but can cause poor indoor air quality, largely due to the continual recirculation of air and the lack of incoming fresh air. But never fear, Hansen Super Techs is just a phone call away and offers top-of-the-line indoor air quality services in Daphne, AL.
The Super Techs with Hansen Super Techs can help you evaluate your indoor air quality needs beginning with an air quality audit that checks the air quality in the home for problematic contaminants, allergens, irritants and pollutants. Based on air testing, our techs can make recommendations about the next steps you need to take to make sure the air quality in your home is up to par and not causing problems for the home's occupants. A few ways we can help is by the installation of an air purifier, UV light systems, or a whole home dehumidifier. All of these will help increase the indoor air quality that could be worse than outside.
The Environmental Protection Agency (EPA) reports that in some areas of the country, including in larger cities and industrialized locales, the air quality in the home is even worse than the air quality outside the home. Allergens and pollutants gain a foothold when homes fail to get enough fresh air coming into the home, which paves the way for breathing problems and respiratory issues.
Common contaminants in the home are becoming more and more prevalent. These include cigarette smoke, mold, dust, pollen, VOCs and pet dander, among others. By selecting the right indoor air quality services in Daphne, you can help both you and your family enjoy your home to the fullest without the worry of breathing in air that can result in health issues.
Hansen Super Techs offers a range of indoor air quality services, not just for Daphne homeowners and business owners, but also for customers residing in Orange Beach, Foley, Gulf Shores and Biloxi, as well as the surrounding communities. Friendly, well-trained and insured technicians are standing ready to help you get the most of your home with high-quality services and products.
Does Your Family Need Daphne Indoor Air Quality Services?
Your home is your castle and your family is your most prized asset. Keeping your family safe is important, and that includes keeping them safe from polluted and contaminated air. Healthy air inside the home can help you and your loved ones enjoy your home more and breathe easier. The air your family breathes should be of your utmost concern and should never make your family fear for their health.
Looking for signs that your family is suffering from the ill effects of poor air quality in the home ensures that you take action as quickly as possible to remedy the situation—and stave off the poor outcomes of allowing bad air quality to persist. Look for symptoms of respiratory problems, including coughing, runny nose, wheezing, tightness in the chest, and sneezing. These symptoms may be indicators that you and your loved ones are being exposed daily to things in the air that are making them sick. Potential contaminants include mold, dust, dander, viruses, bacteria, and so on.
No company is as heralded among the Daphne population as Hansen Super Techs when it comes to indoor air quality services. Our team of Super Techs is on call and ready to serve you. Any air quality issue can be resolved quickly and easily with our Super Techs on the job. Let us test your home's air quality and make a knowledgeable recommendation on the best fixes for you.
Indoor Air Quality Services in Daphne – Options to Consider
Hansen Super Techs stays on the cutting edge of the latest indoor air quality services and systems to keep your home and the air in it its most comfortable and healthiest.
Our Super Techs install, service, and maintain:
Air purification systems
Air scrubbers
Bypass HEPA systems
Dehumidification systems
UV light systems
Whole-house polarized-media air cleaners
Let our techs put their years of experience in the industry to work in helping you choose the right indoor air quality services and solutions for your home. With the ultimate goal of eradicating or neutralizing common pollutants, irritants and contaminants, our team wants to make your home its most enjoyable for you and your family.
Your Daphne Indoor Air Quality Services Team
The team at Hansen Super Techs know all too well how much family means to you—we feel the same way about our loved ones too. For this reason, we have become a steadfast partner with thousands of homeowners across the area, helping them achieve the best indoor air quality possible to keep their families safe and healthy. From IAQ testing and air testing to the installation of the best air quality products for your needs, our team is ready to help.
Reach out to us for an air quality audit to get the ball rolling on your indoor air quality needs! Or call an expert today for heating or cooling solutions in Daphne.
Get in Touch!
Call Us: 251-225-3121
or visit our contact page to submit your request directly to our office.
License Info
Heating A/C & Refrigeration
Contractors: # 22132
Master Gas Fitter: # MG-2057
Master Plumber: #MP-4128
Electrical: #ELEC06775
Privacy Policy | Terms & Conditions