Is it Time for a Furnace Replacement?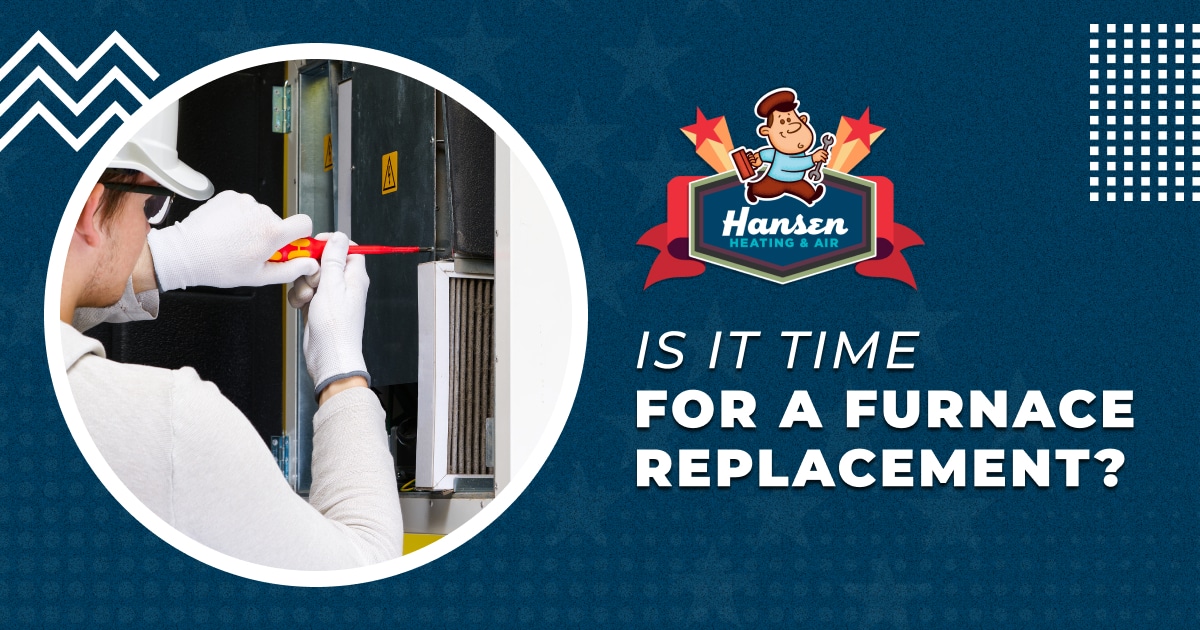 With the beginning of fall, the temperatures outside are steadily decreasing and causing us to use our heaters more and more often in Biloxi. And because of this, somehow homeowners are finding themselves at a crossroads, where they must decide whether a new furnace replacement is required for the new winter season. This decision is very important and because it is costly, it isn't to be taken lightly.
Reasons for a Furnace Replacement 
At Hansen Super Techs, we replace countless furnaces every year and can recognize when such replacements are needed. We rounded up the top signs that we refer to when helping our clients decide on a new furnace replacement in Biloxi. 
Excessive Repairs
How often do you call a heating repair technician to help you fix an issue with your furnace? If you're having to rely on exceeding repairs to warm your home, it may be time for a furnace replacement. This is especially true if you are seeing not only an increase in repairs but also an increase in the cost of these repairs. A furnace replacement will allow you to save money on future repairs in the long run. 
If you run into a problem with your HVAC system, it is important to have it repaired as soon as possible. Read our blog to learn why delaying HVAC repair isn't a good idea. 
End of Lifespan
The average lifespan of a furnace is 15 to 20 years. If the furnace in your home is about this age, it may be time to consider a furnace replacement. With age, your furnace will require more frequent repairs that will grow and cost. Eventually, the furnace will break down completely and stop turning on. 
Because a new furnace is a very costly replacement, we recommend putting aside some money for a replacement when you notice that the age of your furnace is coming to the end of its lifespan.
As you consider a furnace upgrade in your home, read our blog to learn about the benefits of also upgrading to a smart thermostat. 
Decreased Efficiency 
Older furnaces will always have decreased rates of efficiency, which is a great reason to consider a furnace replacement. This means that they will use more energy than is needed to heat your home. This decrease in efficiency will be evident in the growing energy bills that you pay on a monthly basis. 
Decreased efficiency in your heater, can also be the result of the following factors: 
Clogged air filters that block proper airflow

Leaky air ducts prevent proper air circulation and make the heater work harder

Broken or miscalibrated thermostat
Another main issue we see with inefficient furnaces is when they are not sized appropriately to accommodate the square footage and needs of the home. If the heater is too small, it will not produce enough warmth for the entire home. 
Regardless of what the issue may be, it will be important to contact a furnace replacement technician who will investigate the problem. This inspection will help provide insight into the appropriate course of action you should take. 
Poor Air Quality
Another major reason for replacing your furnace is when you begin to notice a decrease in indoor air quality. Poor indoor air quality. Will look like mugginess, stuffiness, bad odors, and musty smells that are produced by mold. It is important to have the cause of your poor air quality inspected as soon as you begin to notice it. 
Here are some common reasons why your home may have poor, indoor air quality:
Clogged air filters

Excess debris in the outdoor HVAC unit

Clogged air ducts

Development of mold
Mold is one of the things that Hansen Super Techs are deeply concerned about when performing an indoor air quality test. Mold is very hazardous to the health of anyone exposed to it as it leads to migraines, respiratory issues, and other adverse reactions. If your indoor air quality is not improving despite all your efforts, it may be time to consider your options for a furnace replacement or repair. 
Biloxi Heater Installation 
Are you in need of a new furnace installation in Biloxi, MS? Hansen Super Techs are prepared to provide you with a proper inspection and recommendations that would suit your home's needs. Contact us today for your quote and consultation by calling (844) 425-1595.