Upgrade Your House with Smart HVAC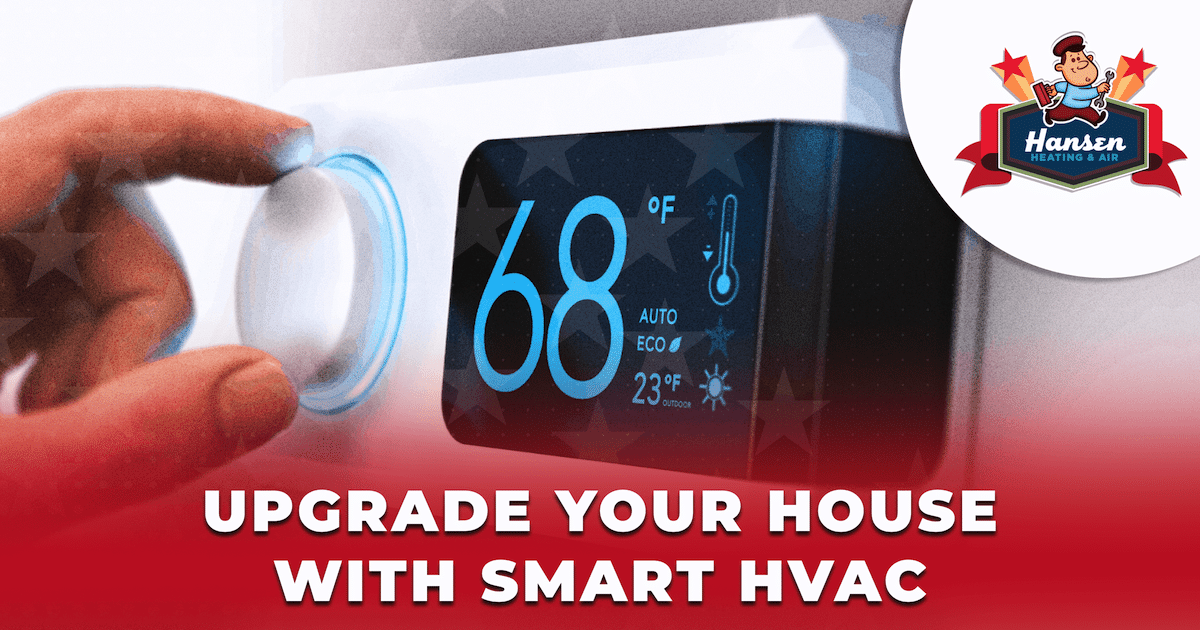 Technology has come a long way and has evolved in a spectacular way. There are various ways people use technology to ease their life. There are multi-cookers that you can control on an app from work, and there are cars that you can start with the push of a button on your key. 
Today, we will explore the beauty and benefits of upgrading to a smart HVAC in your home. We will define what a smart system is and review the benefits it offers. 
Are you in the market for a new AC unit? Check out our blog on the key things to know before buying your new AC unit. 
What Is A Smart HVAC?
A smart HVAC system is built to connect to the network in your home to allow you full control of the temperature in your home. It allows you to have more precise temperatures that are tailored to your preferences and needs. A smart HVAC comes with an app that connects to your thermostat and gives you the ability to make adjustments while sitting on your couch. 
There are several smart HVAC products that offer supreme benefits to your home. Below, we provide a quick overview of these products. 
Smart Thermostats
Smart thermostats come highly recommended by Energy Saver and other authoritative voices on energy and HVAC products. These thermostats are programmable to the tee and allow you to set your own temperature preferences. Most smart thermostats operate only when people are in the house and only when you want them to operate. You are able to turn your thermostat on with the help of an app on your phone and get notifications about energy usage. 
How's that for a smart HVAC system? To learn more about smart thermostats, check out our blog on the 12 benefits of getting a smart thermostat in your home. 
Smart Vents
Now if you think smart thermostats are cool, wait till you learn about smart vents. These vents are built with special sensors that detect activity in a room. Based on their detection, they will do their part to redirect air where there is more activity going on. For example, they will redirect air from an empty room to a room that is actually being used at the moment. 
Smart Humidifiers and Air Purifiers
If you're looking for ways to enhance your indoor air quality with smart HVAC products, we encourage you to check out smart humidifiers and air purifiers. The humidifiers and air purifiers have the innate ability to detect poor air quality and work to enhance it. If your room is too humid, they will extract the humidity. Air purifiers will clean the air of odors and bacteria, allowing you to enjoy a safe and comfortable home. 
Are you getting ready to welcome a new baby? Check out our blog on how to improve indoor air quality for babies. 
Smart Window Treatments
Now, this smart home feature makes us giddy. Did you know that you can also get smart window treatments for your home? As you upgrade your air conditioning unit to a smart HVAC, consider upgrading to smart windows and electronic window shades as well. 
Smart windows and smart electronic window shades also connect to the network of your HVAC system. Together with the AC unit, they will close or open automatically according to your set temperature preferences. 
These smart window treatments will help maintain your HVAC's efficiency and prolong its life span. Plus, you get the benefit of enjoying consistent and preferred temperatures in your home with little to no effort on your part. 
Are You In The Market For A New AC Unit?
If your home is in need of a new AC unit or you're looking for ways to enhance your home, contact Hansen Air Pros today to learn about your options. Our seasoned and friendly technicians are ready to answer your questions and set you up with a system that is right for your home. 
Hansen Air Pros proudly serve Mobile, Baldwin County, and the Mississippi Coast. Call us today at (844) 532-1084, or schedule a service online.