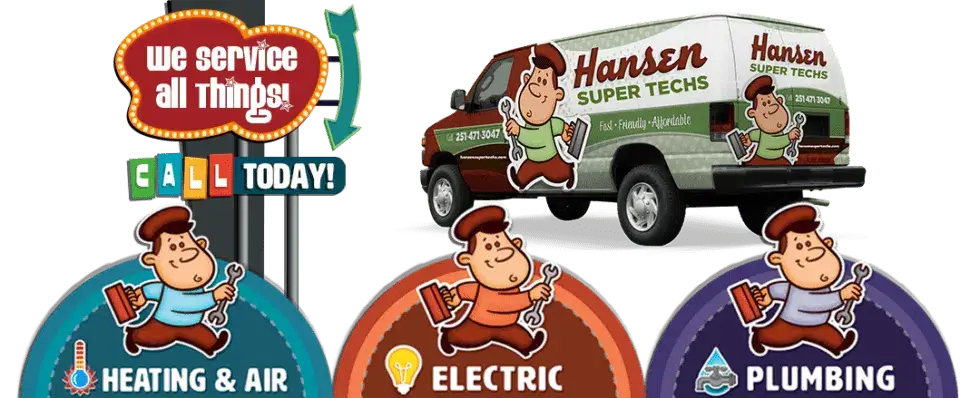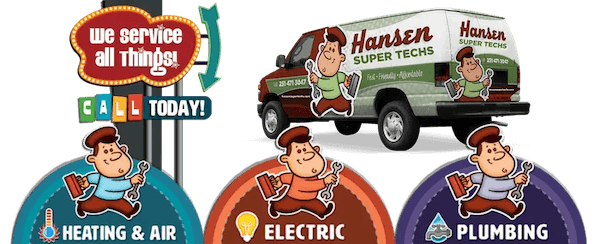 Help Starts Here for Service & Repair!
When temperatures turn chilly, it's important to have a furnace or heat pump that you can rely on to keep your home warm and cozy. Alabama enjoys relatively mild winters but it's important to make sure that your heating system works well when a cold snap settles over the city.
When you need heating service, in and around Theodore, Alabama, we'll dispatch an experienced technician to diagnose the problem and provide an upfront quote with no surprises. If you're looking for reliable furnace repair you can trust the licensed technicians at Hansen Super Techs.
Whether you live near Saraland, Tillmans Corner, or along the Gulf, we show up quickly with a fully loaded van to fix your furnace.
HANSEN SUPER TECHS HAS EXPERIENCED FURNACE REPAIR TECHNICIANS
When your heating system fails, our professional furnace repair technicians can diagnose and repair today's top brands. However, if your furnace or heat pump is more than 10 years old, we may suggest installing a more efficient, modern model. Hansen Super Techs heating service can keep your family comfortable and keep your utility bill under control.
SIGNS THAT YOUR FURNACE NEEDS REPAIR SERVICE:
Rising energy bills

Scraping noise or squealing noises coming from the furnace

Odd smells coming through the vents or furnace

Overall air poor quality in the house

Malfunctioning flame sensor or pilot light on the furnace

Unresponsive thermostat

Inconsistent heating temperatures throughout the home

Trouble with the furnace turning on
Alabama winters are too cold to suffer from a faulty furnace. If you want to get furnace repair today, our team is at your service. Your comfort is our highest priority, so if your heating system isn't keeping you warm, give our team a call. We'll send one of our skilled technicians to figure out exactly what is going wrong.
Why Choose Hansen Super Techs for Furnace Repair Service
At Hansen Super Techs, we have served clients in Theodore and the surrounding areas since 2006. We understand that you need a reliable furnace to keep your home toasty during the winter. If a furnace repair technician arrives at your door from Hansen Super Techs, you will receive the following benefits from our furnace service:
Furnace technicians with a thorough understanding of performing repairs and troubleshooting all furnace problems

24 Hour Emergency Furnace Repair Service

Access to the nation's leading manufacturers of furnaces and their replacement parts

Fair and affordable furnace repair cost schedule presented before services begin
From emergency furnace repairs to installation of a new heating system, you can trust us to arrive on time and complete the job as quickly as possible, typically within a few hours instead of several days. Everybody deserves a warm, comfortable home.
Common Furnace Problems We Help Troubleshoot
All sorts of problems arise in furnaces that require the assistance of local services. Most homeowners prefer to DIY these repairs, but you should place a service call for the following issues with your malfunctioning furnace:
Broken heat exchanger

Short cycle issues that are typically connected with a tripping circuit breaker

Wear and tear of the blower motor, blower fan, limit switch, or safety switch

Decreased energy efficiency levels

Gas leaks or other gas line issues in gas powered furnaces

Malfunctioning pilot light or flame sensor

Issues with the starting mechanism of the furnace

Thermostat problems
Regardless of the repair issue at hand, your furnace repair technician will help bring a high quality resolution to your heating needs. Call us today to bring your furnace problems to an end.
HOW TO AVOID EXPENSIVE FURNACE REPAIR COSTS
Fixing a furnace, air conditioning, or any other HVAC system can be a costly venture. Most homeowners want to attempt DIY repairs because of this very reason. To avoid expensive furnace service costs, do your best to follow these steps:
Change the air filter regularly

Keep up with regular

maintenance

of your furnace

Do not prolong placing a call to the furnace repair service when you suspect a repair issue

Give your furnace a break after every 8 to 10 hours of operation
By following these tips, you will significantly reduce the cost of furnace repairs and maintain your heating system in good shape, avoiding having to get a new furnace for a long time.
Quality Furnace Repair Services in Theodore, AL
Hansen Super Techs is proud to serve homes and businesses in Alabama. Call us today to learn more about furnace repair or new heating system installations. Or, learn about and schedule your annual furnace maintenance services to keep your furnace working properly.
We also provide the hottest deals on high-quality, energy-efficient heaters in and around Theodore, AL! Besides heating repair, we are the coolest company in town when it comes to AC repair and keeping your AC system working!
Get in Touch!
Call Us: 251-225-3121
or visit our contact page to submit your request directly to our office.
License Info
Heating A/C & Refrigeration
Contractors: # 22132
Master Gas Fitter: # MG-2057
Master Plumber: #MP-4128
Electrical: #ELEC06775
Privacy Policy | Terms & Conditions