Why You Should Leave Electrical Repairs to the Pros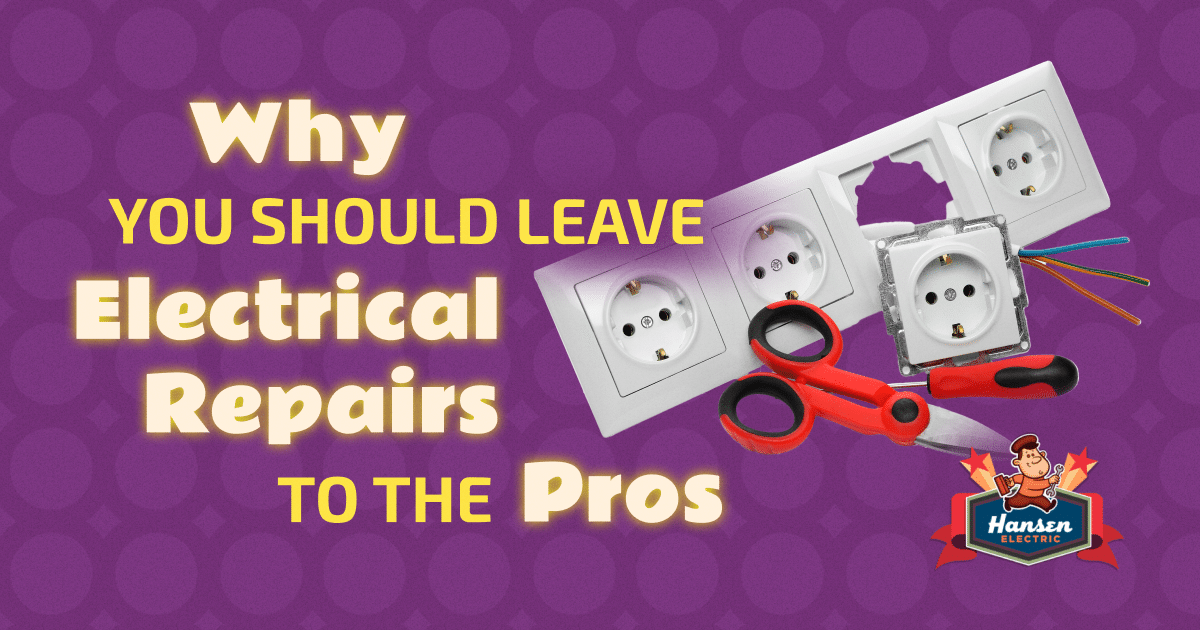 What is the first thing you want to do when you find that something is broken in your home? Do you start attempting a repair yourself, or do you call for help? We don't blame you for choosing to DIY your repairs around the home, especially since prices on everything continue to climb. However, we urge you to leave it to the pros when it comes to performing electrical repairs. 
As the top electric company in Mobile, AL, Hansen Electric has seen the aftermath of almost every DIY repair project, and it wasn't pretty. So in today's article, we will discuss why you should never attempt an electrical repair by yourself.   
Lack of Training
The first and foremost reason that you should call an electric company in Mobile, AL, for help with your electrical repairs is that you just don't have the necessary training and experience of an electrician. 
The training an electrician has to undergo is very grueling. Most training programs are two years to four years long, followed by a licensing exam and an apprenticeship program. Throughout the training, the electrician is taught to perform repairs safely, being prepared for potential problems along the way. 
Did you know that most electrical problems can be avoided with a regular electric maintenance service? Check out our blog to learn about the benefits of these routine visits. 
Lack of Tools and Equipment
Electricians use specific tools and equipment to ensure that all repairs are performed at the highest standard possible. These tools are handy to avoid the potential damage that is inflicted on the electrical system by using inappropriate tools. 
In addition to the tools, technicians also wear protective gear when needed to ensure that they are safe from injury. Anything can go wrong with a repair, which is why hiring an electric company in Mobile, AL, will be your best bet. 
Risk of a Fire
Nobody likes to deal with the hazardous risks of fire. When performing electrical repairs, the delicate wiring must be handled with care to ensure that they don't spark, burn, or fail. When they do, that means that they were handled by someone inexperienced or not trained for the job. 
Fires can spread very quickly, especially when they start in the electrical system's wiring. Once it begins to spread, stopping it will be harder and harder to do. As a result, you may lose your home or even your life. So please, allow an electric company in Mobile, AL, to do the repairs for you. 
You Can Void Your Home Insurance
Attempting an electrical repair in your home that goes wrong can potentially affect your home insurance in a negative way. Most fires are covered by a home insurance policy, but only if they are accidental and out of the homeowner's control. If the insurance company finds out that the damage sustained to your home was the result of a repair done by an unlicensed individual, they will not cover the damages. As a result, you will be severely set back financially, especially if the damage affects your whole house. 
Though you may not be licensed to perform electrical repairs, you can still learn to spot potential electrical emergencies. Learn on our blog about the top reasons to call an emergency electrician.
It's Against Most States' Laws
Finally, performing electrical repairs without a license or training can get you in hot water with the law. Electricity can pose such significant risks that even our legislators found it necessary to regulate how repairs are provided. Why get in trouble for something like trying to fix your home's electricity? We all know that it's just not worth the risk so call that electric company in Mobile, AL. 
Are you tempted to perform your own electric services because you're worried about the affordability of these services? Learn about the financing options available to you on our website. 
Best Electric Company in Mobile, AL
Is your home in need of some electric repairs? Look no further than the finest electricians from Hansen Electrics. The services we provide are fast, friendly, and affordable in Mobile and its surrounding areas. Contact us today to schedule the repairs you need!