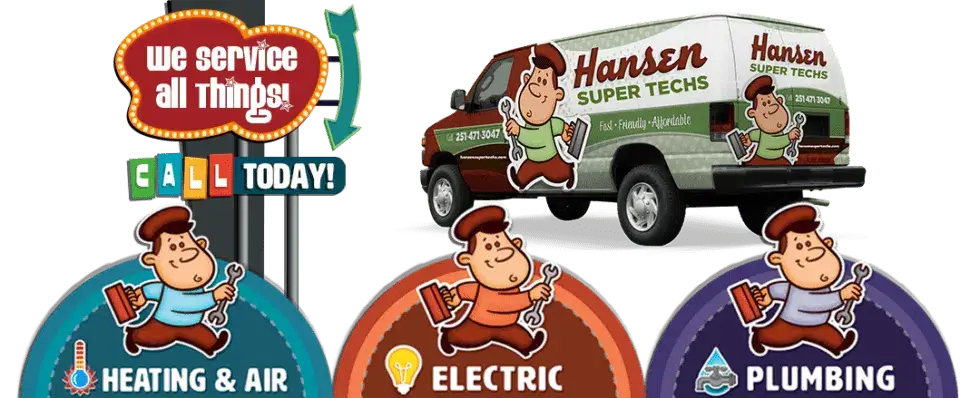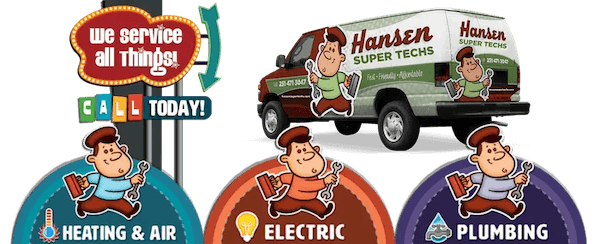 Help Starts Here for Service & Repair!
Furnace Maintenance in Daphne, AL
Do you suspect that you need heating maintenance in Daphne, AL? If so, it's time to call Hansen Super Techs. You can avoid costly maintenance and high energy bills when you partner with the right furnace maintenance team. So, if your electric bill is unusually high, you have hot and cold spots throughout your home, your thermostat doesn't regulate the temperature properly, or if you have any other HVAC issues, we can help.
Our heating pros will give you peace of mind when they're working on your heating system. We also perform a comprehensive heating tune-up to keep your system running in top condition and increase the lifespan of your furnace, boiler, or another heating system. It doesn't snow in Daphne, but it can still get pretty cold during the wintertime. That's especially true if you live along Mobile Bay and the breeze picks up at night. So, improve your home comfort and indoor air quality with a well-maintained heater!
Top Heating Maintenance in Daphne
One of the first signs that your heater isn't running as efficiently as it could is a high energy bill. So, if your gas or electricity has gone up, furnace maintenance or repair could help bring it back down to normal levels. Other signs include getting lukewarm air from the vents or having areas of your home that remain hot or cool no matter how much you adjust the thermostat. Poor air quality is another sign that something is going on with the furnace, boiler, heat pump, or other systems.
We perform full maintenance on today's top brands and even models of past, and we can also recommend replacements if you want a more efficient, modern unit. From full line heater tune-ups to replacing a major part, we'll do what we have to and bring your furnace back to life. We also offer annual maintenance plans to prevent costly breakdowns and high energy bills.
Contact Hansen Super Techs to keep your system running in top condition for the following benefits!
Low utility bills
Quieter unit
Better indoor air quality
Less repairs
Warm, cozy home
The thermostat is an integral part of your heating system. It sends a signal to the boiler furnace to control the production of heat pumped through your home. When your thermostat is working well, the temperature in your home matches the thermostat setting. If you have a nonworking thermostat, it's hard to control the temperature in your home, which can be frustrating and uncomfortable.
Hansen Super Techs can help you maintain and calibrate your existing thermostat as part of our maintenance! Also, If you would like to introduce smart technology into your home, we recommend a programmable thermostat. This equipment allows you to adjust your home climate remotely. We can help you analyze your current thermostat and make recommendations if you are interested in any upgrades.
Your Heating Tune-Up Contractor
Do you need heating maintenance from a reliable experienced technician? Hansen Super Techs provides emergency assistance 24/7 when your system lets you down on the weekends, after hours, or in the middle of the night. To prevent expensive repairs, though, we recommend taking advantage of one of our annual heating maintenance programs, so your system is ready to go in colder weather.
Our furnace maintenance plan includes full tune-ups. We'll lubricate all moving parts, clean out your furnace and let you know if you need more extensive help such as replacing a part or possibly replacing your existing heater. Do you have central air, a heat pump, a furnace, or a boiler? Our team provides heating maintenance for all systems used in Daphne and throughout Baldwin County.
From May Day Park to Village Point Park Preserve to Daphne Dog Park, our team serves residents throughout Daphne and the rest of Baldwin County. Stay warm this winter with heating maintenance from Hansen Super Techs. Or contact our office to make an appointment for heating repair or replacement, as well as for AC maintenance. We can also help with emergency assistance today!
Get in Touch!
Call Us: 251-225-3121
or visit our contact page to submit your request directly to our office.
License Info
Heating A/C & Refrigeration
Contractors: # 22132
Master Gas Fitter: # MG-2057
Master Plumber: #MP-4128
Electrical: #ELEC06775
Privacy Policy | Terms & Conditions