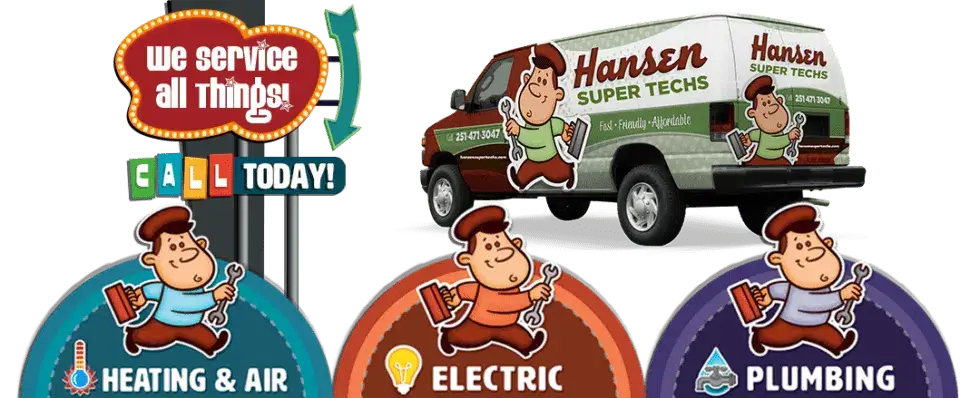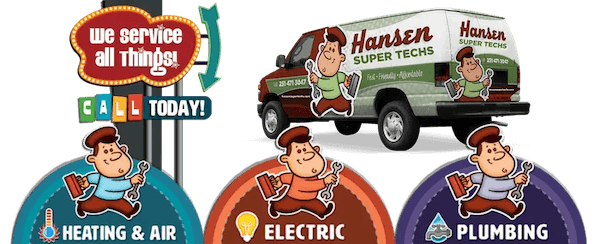 Help Starts Here for Service & Repair!
Furnace Repair in Mobile, AL
If you're looking for reliable furnace repair in Mobile, AL, you can trust the licensed technicians at Hansen Air Pros. When temperatures turn chilly, it's important to have a furnace or heat pump that you can rely on to keep your home warm and cozy. Alabama enjoys relatively mild winters but it's important to make sure that your heating system works well when a cold snap settles over the city. When you need heating service in Mobile County, we'll dispatch an experienced technician to diagnose the problem and provide an upfront quote with no surprises.

Whether you live near Saraland, Tillmans Corner or along the Gulf, we show up quickly with a fully loaded van to fix your furnace or heat pump quickly.
Trusted Heating Service in Mobile
When your heating system fails, our professional technicians can diagnose and repair today's top brands. However, if your furnace or heat pump is more than 10 years old, we may suggest installing a more efficient, modern model. Hansen Air Pros heating service can keep your family comfortable and keep your utility bill under control. Ask about our maintenance programs if you want an HVAC technician to periodically inspect and repair all moving parts in your heating system. This allows you to avoid bigger bills down the road. Instead of waiting for an expensive breakdown, call us as soon as you notice signs of trouble. Often, it's as simple as tightening a few connections or swapping out the filter. Rest assured, if anything major happens, your heating system in Mobile is in good hands with our certified technicians.
If you notice anything odd about your heating system, Hansen Air Pros can help. Call us to diagnose the problem if you experience any of the following symptoms!
Rising utility bills
Strange noises or smells
Unresponsive thermostat
Inconsistent heating throughout home
Trouble starting heating system
Mobile winters are too cold to suffer from a faulty furnace. If you want to get furnace repair today, our team is at your service. Your comfort is our highest priority, so if your heating system isn't keeping you warm, give our team a call. We'll send one of our skilled technicians to figure out exactly what is going wrong.
Your Furnace Repair Team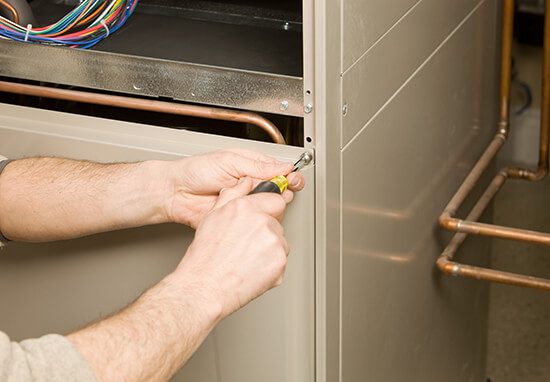 At Hansen Air Pros, we have served clients in Mobile and the surrounding areas since 2006. We understand that you need a reliable furnace or heat pump to keep your home toasty during the winter. That's why we offer a 24-hour heating service and respond promptly when you call for help. From emergency furnace repairs to installation of a new heating system, you can trust us to arrive on time and complete the job as quickly as possible, typically within a few hours instead of several days. Everybody deserves a warm, comfortable home.
Hansen Air Pros is proud to serve homes and businesses in Mobile County. Call us now for emergency furnace repairs or new heating system installations. Schedule an annual tune-up to keep your furnace or heat pump working properly. We also provide the hottest deals on high-quality, energy-efficient heaters in Mobile! Besides heating repair, we are the coolest company in town when it comes to AC repair and keeping your AC system working!
Get in Touch!
Call Us: 251-227-4441
or visit our contact page to submit your request directly to our office.
License Info
Heating A/C & Refrigeration
Contractors: # 22132
Master Gas Fitter: # MG-2057
Master Plumber: #MP-4128
Electrical: #ELEC06775
Privacy Policy | Terms & Conditions
Signup for News & Discounts!