What To Expect from an Electric Maintenance Service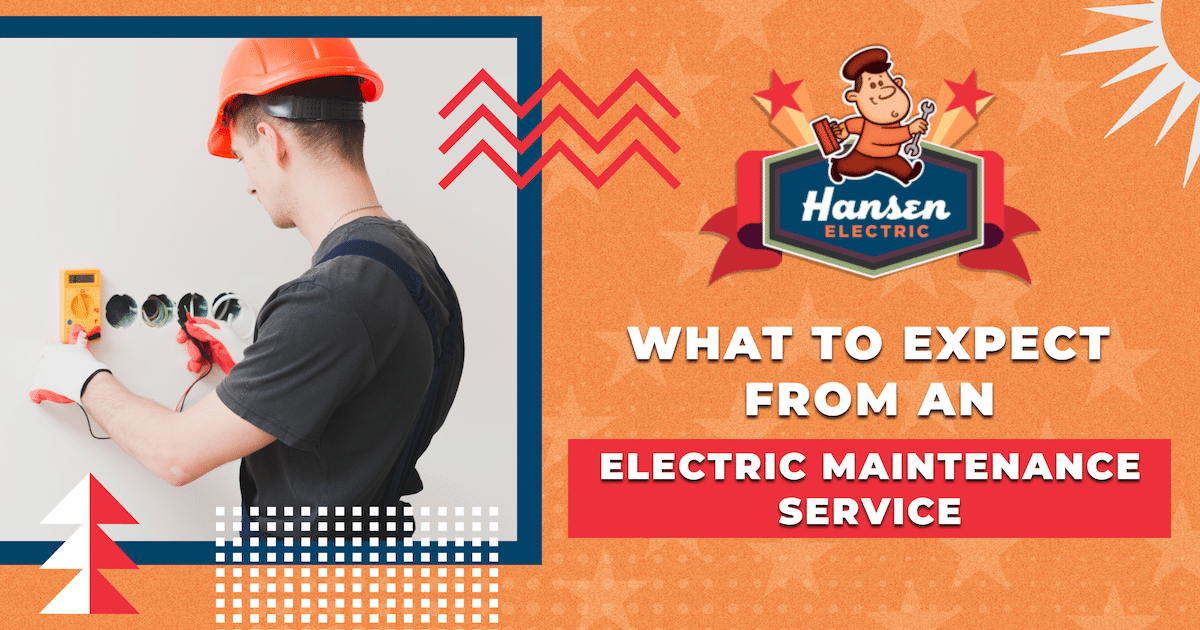 Electricity is extremely important for the safety and comfort of our modern homes. It is not a secret that electrical wiring systems are very costly to install, making electrical maintenance extremely important. At Hansen Electric, we take electrical maintenance services very seriously and encourage everyone to stay current on its upkeep. In this article, we would describe the reasons for regular electrical inspections and what to expect from this service. 
Why is Electric Maintenance Important?
As we already stated, the installation of an electrical system tends to cost high. When electrical repairs are neglected, they can develop into bigger problems that will be expensive to fix or replace. 
What is even more concerning than the financial costs of poor electrical maintenance is the safety of your home. There are certain electrical repairs that can lead to very grave results. For example, loose wires that cause outlets to spark will lead to hazardous electrocution. Exposed wires can ignite a fire, and overloaded circuit breakers can create a power surge. All of these problems can lead to fires and other dangerous situations. 
Hansen Electrics provides electrical maintenance inspections to help clients remain safe and comfortable in their homes. Review the list below for some of the common areas we check in your electrical system. 
Electrical Meter Check
We check electrical meters to ensure that they are properly installed and in good working order. Certain parts of the electrical meter wear out with use and do require replacement or repair. Our thorough inspection also ensures that the meters are free of water damage and rust that can lead to great problems in the electrical system. Thanks to Hansen Electrics, these problems will be avoided with a simple maintenance check. 
Is your business prepared for a season of weather storms? Read our article to learn about the pros and cons of having a generator for your business. 
Check the Capacity of the Circuit Breaker
The capacity of the circuit breaker has to be within the safe parameters to ensure that there is no risk of electrical overload.  An overloaded circuit breaker can lead to a power surge that is damaging to the wiring system and many appliances. This part of the inspection ensures that your home is safe from electrical fires and other damages caused by electricity. 
Hansen Electric is a one-of-a-kind electric service company. Visit our website to learn why we stand out from the crowd. 
Check Electrical Wires 
During the inspections, Hansen Electrics also checks the electrical wires for possible damage. Sometimes wires get frayed, exposed, and wet. All of these defects lead to very hazardous conditions that can cost you your home. 
After identifying these defects, the electrician will provide a plan for repairing them and will make the necessary adjustments. If you do notice any of these defects in your electrical system, we recommend contacting Hansen Electric services for assistance in fixing them. 
Electrical repairs can get fairly expensive. Check out our financing options that will ease your financial burden!
Check the GFCI Outlets
Ground fault circuit interrupters, or GFCIs, are installed on outlets to detect moisture in objects that are plugged in. These devices safeguard the home and the residents from an electric sparks, electrocution, and fires. Our electricians make sure to check these devices to ensure that they are in proper working order. When it comes to electricity, one can never be too safe, so make sure to have your outlets checked!
Contact
Hansen Electric
for Electric Maintenance Services!
Is your home due for an electrical maintenance inspection? Prepare for this year's fall and winter seasons by having your electrical system inspected. The experienced and skilled electricians at Hansen electric will be able to assist you with checking that your electrical system is in proper and safe working order. Contact us today at (251) 227-4441 or visit our webpage to request a call from one of our staff members. 
Electrical maintenance is just as important as HVAC maintenance. Read our blog to learn when to schedule your next HVAC inspection.